Tips & Talk 16 – Identify Your Most Productive Next Step for a Perfectly SCRIPTed Week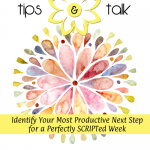 Have those weeks where you're super busy but all that time and effort you put in doesn't transfer over to sales? True results come down to doing the right things to move the needle – not just lots of activity.
Follow my 6 Step SCRIPT Method to identify what single goal you should focus on each week. One thing, the right thing, focused on each week will bring immediate progress and huge results over the course of a year.
CONNECT with me here:
Website | Facebook | Instagram
JOIN our FREE Gift Biz Breeze Facebook Group specially for handmade product makers.
SUBSCRIBE to the podcast so you automatically receive your new episodes right when they air – no waiting!
Apple Podcasts | Google Podcasts | Spotify
PAY IT FORWARD by leaving a rating and review.
I'd love to hear your comments. Tell me how the show has helped you or a specific guest or point that had an impact. You can do that right here.
Thanks for listening!