406 – It's National Bakers Crafters Makers Day!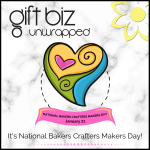 Today (January 21) is National Bakers Crafters Makers Day. A time to recognize, uplift, and celebrate YOU!
(And, by the way, that means ALL handmade makers whether it's a hobby or you've turned what you make into a small business.)
It's been 3 years since I established this official national day. Each year, we do something a little bit different to celebrate.
Whether you've participated before or this is your first one. Either way, I'm thrilled you're joining us! And I want to tell you about everything that's available to you in relation to this special day of honoring you.
It's National Bakers Crafters Makers Day
Tune into this short episode to hear about …
Free gifts and resources for you
Why "Handmade Heals The World?"
How your creations make the world a better place (and so much more!)
What other makers say about why they love their business so much and the value their products provide to customers (bet you'll recognize yourself in the words!)
And more!
You are amazing for sharing your skills with us through what you make.
I lift my glass in recognition and honor of you. Happy National Bakers Crafters Makers Day!
It's National Bakers Crafters Makers Day! Listen to this episode now and join the celebration. 
Makers Who Participated in the Content
Podcasts and Pages for NBCMD
Join Our FREE Gift Biz Breeze Facebook Community
Become a Member of Gift Biz Breeze
If you found value in this podcast, make sure to subscribe so you automatically get the next episode downloaded for your convenience. Click on your preferred platform below to get started.
Also, if you'd like to do me a huge favor – please leave a review. It helps other creators like you find the show and build their businesses too. You can do so right here: Rate This Podcast
Apple Podcasts | Google Podcasts | Spotify
Thank you so much! Sue
Know someone who needs to hear this episode?
Click a button below to share it!