002 – A stress to success lifestyle business with Julie Brugioni of The Silk Thumb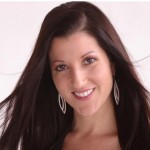 Julie started working at The Silk Thumb at age 16. Seven years later she bought the business and learned what being in charge is all about. She specializes in designing unique interior space utilizing the world's finest artificial flowers, plants and trees. Learn how Julie has re-positioned The Silk Thumb for strong future success.
[Tweet "Lighting it Up with Julie Brugioni of The Silk Thumb today." link of show]
Motivational Quote

Business Inspiration
The beauty of any environment filled with color led Julie to work at The Silk Thumb. The possibility to actually own the business was an opportunity too good to pass up. [7:05]
A Candle Flickering Moment
The economy dip starting in 2008 led to low customer traffic and a potential shutdown of The Silk Thumb. Hear how Julie changed things up and instead of closing the doors, rebuilt a thriving business and a dramatically improved lifestyle as a business owner. [11:36]
Success Trait
Being an action taker and her talent for color matching and design. [22:53]
Productivity/Lifestyle Tool
Daily To Do Lists created with a simple pen and paper [23:18]
Her weekly BNI Group which produces about 20% of her business! [23:52]
Valuable Book
How to Win Friends and Influence People by Dale Carnegie
Contact Links
If you found this podcast valuable, make sure to subscribe and leave a review in Apple Podcasts or Google Podcasts. That helps us spread the word to other makers just like you.
Thanks! Sue