029 – Top Tips for Retail Success with Mary Romeo of Bee Business Smart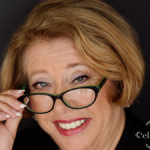 Mary has been in the retail environment for 23 years, both owning her own business and as a Regional Director handling a multi-store chain. During that time, she always wished there was someone to turn to who really understood retail. Someone who could brainstorm ideas, talk through problems and strategize concepts.
Friends and family were supportive but didn't really understand running a retail business.
So….what did she do? Mary created Bee Business Smart. It's a place where brick and mortar retailers can find tips, tools, resources, information, and inspiration. A place where wearing many hats is understood, encouraged and applauded.
Bee Business Smart is a resource for insights and strategies on merchandise concept development, displays and visual merchandising, hiring and staff training, branding, signage, packaging, systems, marketing and social media. It's where to go to get help with the million things every retailer deals with every day in growing their business.
Motivational Quote

 A Candle Flickering Moment
How to retain your customers when Starbucks comes to town [7:03]
Business Building Insights
Repackaging to be unique [12:43]
A critical step – define your customer [17:09]
Example of a successful store niche [17:45]
Merchandise story example [18:16]
9 TOUCH POINTS OVERVIEW [19:12]
Capturing emails [23:26]
Bounceback coupons without discounting [25:33]
Success Trait
Perserverance and quick decision making
Productivity/Lifestyle Tool
Mary creates systems that enable her staff to take on projects with independence, confidence and accuracy
Valuable Book
Jab, Jab, Jab, Right Hook by Gary Vaynerchuk
Zingerman's Guide to Giving Great S ervice by Ari Weinzweig
FREE Businesses Building Resources – Thanks Mary!
90 Tips to Rock Your Holiday Sales
Contact Links
If you found value in this podcast, make sure to subscribe and leave a review in Apple Podcasts or Google Podcasts. That helps us spread the word to more makers just like you. Thanks! Sue