030 – From Wild Bill to Their Own Biz with Berk and Katie of Fresh Prints of CT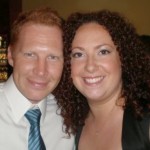 Fresh Prints of CT provides artisan crafted gifts and posters to gift shops around the country and internationally.
Berk and Katie research current trends and discover artisans who excel at their craft. They find joy in providing customers access to arts and ideas that aren't necessarily mainstream. In turn, this creates an environment for customers to explore and find products that are truly unique and memorable.
Through their wholesale offerings Berk and Katie also offer the opportunity for businesses to support original artists who create unique handcrafted gifts. Each item is conceived and crafted by the artist themselves therefore being not only one of a kind but also carrying a lovely story of how it was made.
As you can tell, they take great care in curating the high quality items available in their store.
Motivational Quote

Business Inspiration
The Learnings of Wild Bill [4:42]
A Candle Flickering Moment
Disconnecting from the family business [13:06]
The Wholesale Decision
Adding wholesale to the existing online retail shop [19:27]
Business Building Insight
Defining a unique product opportunity [7:37]
Description of the Dictionary Page Product [9:38]
Partners in business – the key to doing it right [16:45]
Customizing product offerings by store needs and audience [24:25]
Success Trait
Berk – Charisma and his ability to connect with people
Katie – Creativity, empathy and being a leader
Productivity/Lifestyle Tool
Meditation
Valuable Book
Likeable Social Media, Revised and Expanded: How to Delight Your Customers, Create an Irresistible Brand, and Be Amazing on Facebook, Twitter, LinkedIn, Instagram, Pinterest, and More by Dave Kerpen
Contact Links
If you found value in this podcast, make sure to subscribe and leave a review in Apple Podcasts or Google Podcasts. That helps us spread the word to more makers just like you. Thanks! Sue