021 – A Lesson in Courage and Impact by Rebecca Bloomfield as Abigail Adams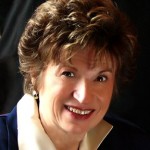 Rebecca Bloomfield is a partner in Jerry S. Pearlstein Insurance Ltd. The agency was formed almost 14 years ago to provide health, life, long-term care and disability insurance to people who don't have a company providing those benefits. Their mission is to be the Benefits Help Desk for people who have none.
Today, their clients are entrepreneurs and independent contractors. They're the people most impacted by the Affordable Care Act. Rebecca and Jerry have become experts in helping hundreds get the most out of the benefits the Act offers.
Rebecca holds a national Certification in Long-Term Care. It is clear to her that the number of Boomers and the health care available to them represents a revolutionary challenge in how to finance a life that can last 100 years or more. It takes knowing who pays for what in long-term care and the planning of how to provide a cash flow from 35 to 105.
Rebecca Bloomfield is also an actor and playwright who has created works based on the lives of women in history. Her play, "The Revolutionary Mrs. Adams" toured the United States and the United Kingdom. As Abigail Adams she performed at the White House and the Ford, Johnson and Hoover Presidential Libraries. Too often the women who supported the founding of our country are overlooked. Many of us today are entrepreneurs creating businesses and not-for-profits. Imagine creating a country!
Motivational Quote

Business Inspiration
Taking a weakness and turning it into a strength [6:48]
Finding her courage [14:34]
A Candle Flickering Moment
The Dysentery Epidemic of 1775 [9:10]
The Morbid Debate [9:28]
Dealing with unforseen loss of support [13:12]
Business Insights
Using available tools and skills to effect change [10:46]
The need for support from others [11:57]
Successful writing content [18:11]
Success Trait
The love and rejuvenation of continual learning [19:18]
Productivity/Lifestyle Tool
Writing letters [20:15]
Valuable Book
The Constitution of the United States of America by our Founding Fathers – it's FREE on Kindle!
Are you up for The Challenge! [22:18]
Contact Links
If you found value in this podcast, make sure to subscribe and leave a review in Apple Podcasts or Google Podcasts. That helps us spread the word to more makers just like you. Thanks! Sue