212 – Takeaways from Social Media Marketing World and What They Mean for Handmade Product Businesses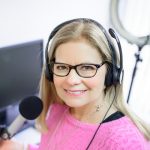 Coming back from Social Media Marketing World, I have good news! Although the landscape continues to change – seemingly daily – there is a lot to be optimistic about particularly for small handmade businesses. To be able to take advantage of the opportunities, however, you need to know about them in the first place. That's what this show is all about.
To back up a bit, Social Media Marketing World (#SMMW19) is the premier social media conference of it's kind, held annually in San Diego. Featuring 120 speakers and over 6,000 attendees, we discuss everything from details on the various platforms to strategy and implementation. We also find out what the latest research shows and recommended changes to our marketing plans. This year certainly didn't disappoint in terms of social media marketing changes!
I return home energized and invigorated by the opportunities available to small businesses. Product businesses in particular have been hearing a lot of gloom and doom over recent years. Brick and mortar is dead. We can't compete with Amazon's prices and delivery. And on and on.
The time is now to turn our backs on this defeatist thinking and prove these statements wrong. I believe what I've heard at SMMW19 is the key to our small handmade businesses survival and dare I say potential for huge growth.
Business Building Insights
Here are the 5 Overall Takeaways from Social Media Marketing World 2019. Listen to the show for the details and how to implement each one in a handmade product business.
Your company brand must contain YOU
Forget the masses. One to one matters most.
Forget about vanity metrics. It's time for quality over quantity.
Let us see you. Video and most specifically live streaming rules.
Your customers are your marketing department.
Contact Links
Gift Biz Resources

If you found value in this podcast, make sure to subscribe and leave a review in Apple Podcasts or Google Podcasts. That helps us spread the word to more makers just like you.
Thanks! Sue