213 – [On Air Coaching] How to Uncover and Market to New Audiences with Elaine Kuckertz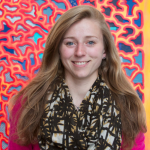 Elaine Kuckertz is a trained visual artist who makes paintings as well as smaller craft works.
Currently, she's seeing success selling painted laser cut puzzles. These are smaller, more tactile versions of her paintings.
Elaine loves working with bright colors and making cheerful pieces that bring people joy. She's excited about the possibility of spending more time doing what she's passionate about so is focusing on making her business profitable.
Business Building Insights
All craft fairs are not created equal. Figure out which ones attract your customer by interest and price point.
Smaller scale items sell best on Etsy and at craft fairs.
Prioritization is the key to time management and progressing with your business.
Letting people interact with your products leads them to the sale.
Dream big. Don't limit yourself to what you can see today.
Make it easy for people to purchase both in person and online.
Promote and let people know what you do.
Believe in what you're making. Only then will your passion shine through.
Contact Links
Gift Biz Resources
If you found value in this podcast, make sure to subscribe and leave a review in Apple Podcasts or Google Podcasts. That helps us spread the word to more makers just like you.
Thanks! Sue