218 – Create Your Own Brand Portfolio Today with Lindsey Johnson of Verity & Co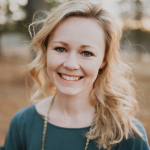 Lindsey is the owner of Verity & Co, helping small business owners grow and scale their brands through cohesive design and effective messaging. She is passionate about branding, copy and web design coming together to represent a business that will make an impact and leave a legacy.
Creating a marketing message that connects with your audience and supporting it with a beautiful design is how her two passions of conversational writing and minimal design collide to serve product and service entrepreneurs in a unique way.
In addition to Verity & Co, Lindsey is a wife and mother. She homeschools their three kids and loves to hang out on the beach of Lake Superior near their home in rural Wisconsin.
Business Building Insights
Your entire marketing message makes the business cohesive.
Present yourself in a way that makes it easy for your audience to say yes to what you're doing.
Start with considering how do you want people to think about your business.
Come from an audience focused view to create a brand.
Consistency across all platforms in person and online is important.
Your audience will recognize your brand through what you post, how you create your graphics and what you say on social media. Brand recognition plays a big role in your growth.
Choose 2-3 fonts. One primary for your logo, and main headlines; a supporting font for the body text; and a personality font that is fun and bold or beautiful and handwritten.
A website is a necessity and increases authority for your brand.
Make sure there is an easy way for people to connect with you on your website.
Include testimonials and social proof on your home page.
By having a more informed audience, they're more likely to buy from you because you're giving them value apart from just selling the product.
As you build traffic to your website and increase marketing efforts, your website will be the best sales person for your business.
Resources Mentioned
Design Seeds – Here's the site Lindsey mentions to choose your brand colors.
Creative Market – Ready to use design assets
One Often Forgotten Free Way to Get New Customers
Contact Links
Gift Biz Resources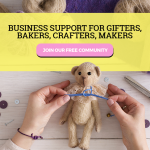 If you found value in this podcast, make sure to subscribe and leave a review in Apple Podcasts or Google Podcasts. That helps us spread the word to more makers just like you.
Thanks! Sue