Tips & Talk 15 – Is THIS Missing in Your "Brand?"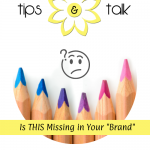 The word brand gets used very freely these days. Do you know what it actually means? Or what's truly included in your "brand?"
You should. Because if you aren't doing this right, you may be putting up obstacles unconsciously that are driving people away!
CONNECT with me here:
Website | Facebook | Instagram
JOIN our FREE Gift Biz Breeze Facebook Group specially for handmade product makers.
SUBSCRIBE to the podcast so you automatically receive your new episodes right when they air – no waiting!
Apple Podcasts | Google Podcasts | Spotify
PAY IT FORWARD by leaving a rating and review.
I'd love to hear your comments. Tell me how the show has helped you or a specific guest or point that had an impact. You can do that right here.
Thanks for listening!