5 Ways to Extend Your Holiday Sales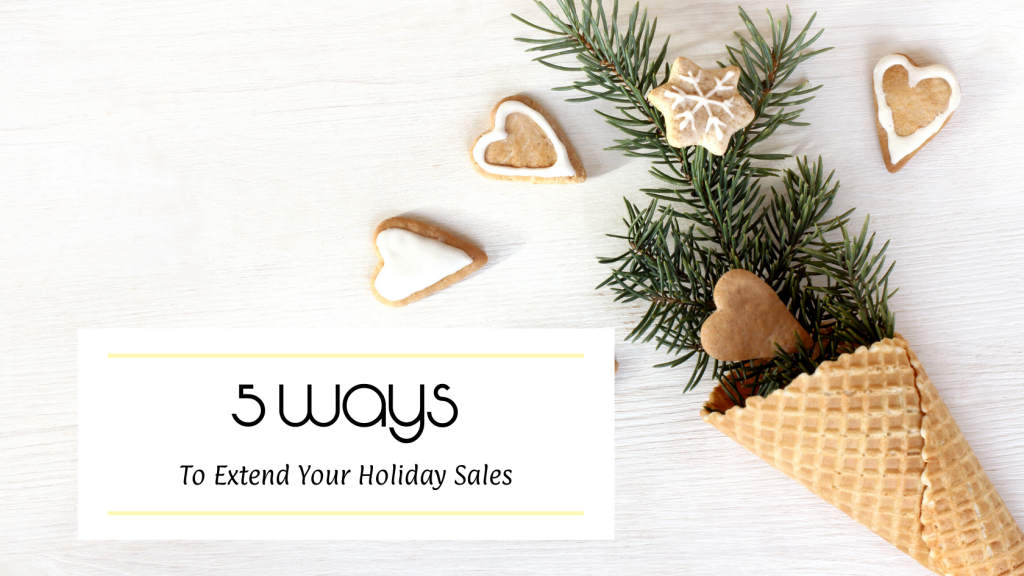 The holiday season brings a spirit of giving … both spiritual giving and material giving.
The reality is people are expecting to spend money. They have their pocketbooks wide open and need to find the right gift … and sometimes any gift … to complete their holiday list.
Corporations are the same. They have to figure out how to manage a holiday gifting program into all the other tasks they normally do to run the business. They've budgeted for gifts. They have a deadline. And they're looking for options.
The groundwork has been set and it couldn't be more perfect!
So how you can use the holiday sales "spirit" to grow your business. But not just for this year.
How can you compound the effect and have your business build on itself year after year?
Follow these 5 Key Steps to make your holiday sales magical!
DOCUMENT – Whether you created a formal plan this year for holiday promotion or not, you can get started with writing down every action you've taken to attract customers. Here are some possible things you're doing:
Attending networking/local events
Posting in social media
Participating in a craft fair
Emailing your current customers
Hosting a holiday open house
Print/Radio/TV advertising
On a blank sheet of paper, write down what you're doing. This is your baseline.
ANALYZE – As the season advances, consciously recognize and make notes about the following things:
Sales – Which of the events from Step 1 are bringing in the sales? If it's not obvious where the customer are coming from … just ask them. Tally by number of sales, dollar volume of sales, or both. The point is to begin to understand which of the activities you are doing are actually converting into business.
Time – On a scale of 1-5 or whatever system you'd like, record how time intensive it is to implement each activity. Posting every day on different platforms and attending a craft fair take more time than emailing your list or placing an ad.
Cost – Again on a 1-5 scale, how expensive was it to follow through on the task.
It's okay if there is a time intensive event that produces large sales. Or a simple task that brings in a little business. What you're trying to identify are things that take a lot of time or money (your resources) and aren't producing results.
ADJUSTMENTS – Here's how you can learn from this year and improve for next year.|
Take Notes – This is important. You want to capture thoughts in the moment. As you are going about your hectic days, what ideas pop into your head of things you'd change next time? What systems are clunky or cumbersome?
Are you saying to yourself, "I don't have anything to write down?" That's probably because you aren't consciously looking for them due to the hustle and bustle of the season. Pay attention :o)
Look for things like:
What products are selling the best? Which aren't?
Do you have enough help in the store?
Are there certain displays people are attracted to more than others?
What price points are working best?
What don't you have that people are asking for?
Do you have a way to capture customer's emails? Is it working?
How timely are you filling orders? Can you be more efficient?
Schedule a time to debrief – Immediately after the holiday season, actually put time in your calendar to review your notes. This can be an appointment with yourself or your team. Highlight and summarize things that you'll do differently for next year.
What brought in sales that you want to repeat?
What improvements can you make?
What activities should you drop because they just didn't perform?
Is there anything else you'd like to test for next year?
Once this is done, you can put your notes away until the next holiday planning season. In this manner you'll have a base to start with when it's time to start planning again.
HOLIDAY PLANNING TIME – In July or August pull out your notes. Now is the time to create your marketing plan for the upcoming holiday season. And you're in luck! You have notes from last year. In this way you are not starting out blank but have knowledge that you can build on for this upcoming season. With this knowledge you can keep what worked and change what didn't. This will equate to more sales and a stronger holiday season all around.
REPEAT – It's holiday time again. Go back and start at Step 1 and go through this process again … year after year.
The holiday selling season is a business building opportunity beyond the obvious. Now you know what to do to Glitter your Business with Holiday Sales!

Print This Post

---
For more free business support consider listening to my podcast Gift Biz Unwrapped where I interview gifters-bakers-crafters-makers who share how they started and built their businesses. Want to talk with me directly? I'm only an email away. I'd love to hear about you, your business and what you're working on right now. sue@suemonhait.com