3 Mistakes that Can Cost You the Sale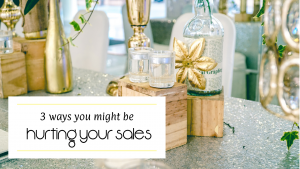 One of the most discouraging things in business is slow sales or a lack of sales altogether. You put everything you have into what you do—and often a lot of money and time—but you may still be making a mistake that will cost you the sale. Sales are the first successful indicator that your hobby has the potential to be a profitable business, and it motivates you to keep going.
As an established business owner, lots of activities compete for your time and you can gravitate to practices or system glitches occur that reduce your sales without you even knowing it.
The unfortunate thing when low or no sales come in, is that it's likely something you're doing (or not doing) is bringing you this result. But let's be positive here. It's absolutely something you can overcome, often with just a few small changes to how you do business.
So tell me…Can you relate to any of these stories?
You own a retail shop. Customers come in, look around, pick up a few products on the shelves to look at them … and then put them down and just walk out the door.
OR
You're selling products at a craft show. Customers come up to the table, look at what you have, touch a few of the items or take a sample … and then just walk away.
OR
You're selling online. Customers click in to look at your products. They browse through your "How To" videos. They check out your "About Us" page … and then just click out and move on.
Why is this happening?
Here are three mistakes that might cost you the sale. Even just one of these actions can turn customers away and dramatically affect your sales. Sometimes we're too close to our own business to be able to identify these problems ourselves, which can ultimately cost you the sale.
Too many choices.
You may have too many sweater colors in your store. Or too many chocolate flavors at the baking show. Too many spice choices on your website. Too many options will spark decision fatigue and overwhelm in your customers, causing them to simply walk away.
So what can you do? Consider the many individual options you offer and …
Stock six different sweater colors instead of 12. Sell only three of the best chocolate brands rather than eight. Create a 3-pack of savory spices combined for a specific purpose, like holiday baking or Italian cuisine.
Refine, combine, or limit your product offerings to those that sell well. Your customer is less likely to be overwhelmed and more likely to buy!
Product Confusion.
Could it be your customer is asking:
How much is this? I see two different sizes but don't see the pricing in your store.
I see you've made mittens in two different colors, but the scarf comes in three? What colors are available?
How does this gadget work and what is it used for anyway?
So what can you do? Make signage and product tags visible and clear. Refine your displays so that customers know exactly what you offer, how much it costs, and how it works. And if you're selling online, be sure your product descriptions are easy to find and filled in completely.
All products should be labeled. Display all color choices or put together color swatch samples. Create a display that includes product demonstrations and/or instructions if using the product isn't obvious.
Difficult checkout.
The customer is ready to buy but they can't find the sales counter. Or there's not a sales associate to be found. Maybe the line is too long. Or the online checkout process is cumbersome and the customer doesn't even know if the charge went through. If checking out isn't easy, it'll cost you the sale because your customers will walk (or click) away.
So what can you do? Be aware and be there.
In Store or at a Craft Fair – Make sure your checkout area is in a visible and easy to access location. Be available when someone needs help. Acknowledge those who are waiting with a simple "hello" or "I'll be right with you."
Online – Walk through your checkout process yourself to make sure it's smooth. Refine and simplify if needed so that your customers can pay quickly and easily, and that they get an order confirmation right away so they know their order went through.
Going through the process of analyzing what you offer, how you present it, and how you sell it is not a one-time exercise. I have scheduled in my calendar to go through my websites every six months to check that links are working and that nothing is broken. And before every craft show, I re-organize and refresh my booth.
Look at it like a customer
Every once in a while, walk through your store, take a look at your craft booth, or click through your website. Think about these three mistakes and then consider…
Are you offering your customers too many options?
Are they overwhelmed and unable to make a decision?
Is your product presentation confusing?
Is it clear what the product is, how much it costs, and how it works?
Are your customers confused by what you offer?
Is your check out quick and easy?
Do your customers have to wait to check out or is the process cumbersome?
In short, are you setting yourself up for your customers to just walk away?
If the answer is yes to any of these questions, it's time re-work, refine, and refresh to increase your sales!

Print This Post