5 Checkpoints to Ensure Courtesy has a Place in Your Business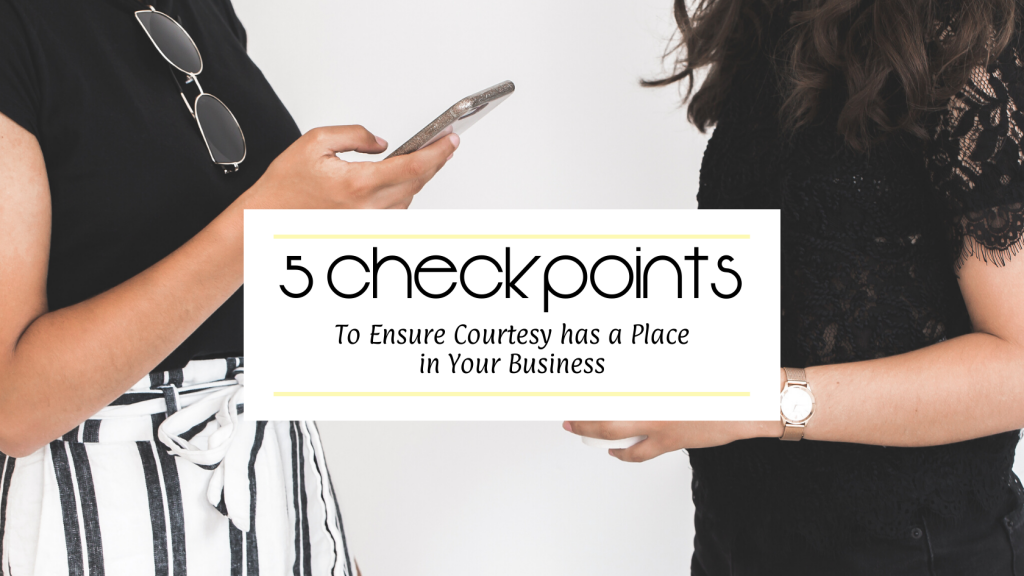 Do you have courtesy in business? Is courtesy part of your product business?
Imagine this scenario: You walk into a popcorn shop looking for a gift to send to your niece who is in the middle of college exams. It's a motivational pick-me-up since you know she's really anxious about one class in particular. She loves popcorn and it's a "thing" between you. So it's the perfect gift.
But you're having trouble deciding on flavors…and you're not sure about shipping. When will it get there? It's going to a dorm so how will that work? Will it still be fresh?
You see the shop owner and she's busy talking with a friend on the phone. You're not even sure she knows you're there until you make eye contact. "Oh good," you think. "I can get my questions answered, place my order and be on the way. Surely she's ending her phone call to help me."
Another 10 minutes go by. She's still talking! Now you're insulted and angry. You have things to do and clearly your business isn't important to her. You walk out the door, never to return. And you will probably tell your friends about how poorly this store does business. It doesn't even matter if the popcorn is delicious. The interaction has killed the sale because she's lacking courtesy in business.
As a product-based business owner, you know the importance of connecting with your customer. Whether you're selling your product in a shop, at a farmer's market or even online, your customers want to connect with you and they want to know they're making a good purchase.
That means having a conversation, going above and beyond and just generally being courteous and respectful–of their time and their ability to make a buying decision.
Let's look at a different example of how the interaction at the popcorn shop could have gone.
You walk into the shop and immediately smell fragrant popcorn and hear a new batch popping in the back. You're welcomed by the owner who asks if you'd like a sample of the latest flavor…along with any other flavors you'd like to try.
"What brings you in today?" she asks.
You explain your intent and she answers all your questions. You place your order and decide to pick up a bag of the new flavor for your husband too. She completes the transaction and then gives you a small bag of your favorite flavor as well. On the house!
Not only did this business make a sale, you had a wonderful experience and will tell others about it. Your niece may even become a customer and tell her friends.
Which interaction would you rather take part in, either as the customer or the shop owner? (It's an easy answer.)
"People will forget what you said, people will forget what you did,
but people will never forget how you made them feel." – Maya Angelo
So true. This is important to remember with all interactions. In business however, it takes on an added dimension. If you make people feel important, valued and respected, it's the difference between growing your business effortlessly or spinning your wheels and not making progress.
Don't start with you.
Courtesy in business means that you put your customers first. Do you know people who immediately begin an interaction telling you all about themselves? I mean the second they see you in person or right after you say hello on the phone? I know we all have agendas but diving right into them is a turnoff!
Before you interact with a potential customer, stop. They want their problem solved, so start by acknowledging them and where they might be in life right now. Ask how you can be of service and let the potential customer drive the interaction. Be interested in what they have to say and offer support and guidance as appropriate. You'll deepen your relationship and gain more business this way. I can promise you that!
Acknowledge gifts and kind gestures and say "Thank You."
This is simple common courtesy in business and in life but we're often so busy that we forget to do it. A "thank you" doesn't have to be a formal event; it can be as simple as a quick message on social media, a written thank you note or a small gift as a token. Even better, if you're thanking another business owner for a gift, post about it on social media and tag their business. Some might think this feels impersonal, but you have given them added visibility–the ultimate thank you for a business owner.
A "thank you" seems to be a lost art these days, but it matters – done in any form.
Check in, just for the sake of checking in
Everyone has someone in their life that always seems to need or want something from you, every time they connect with you. They call to see how you're doing, and then suddenly need a favor before you hang up the phone. As a business owner, you may feel pressed for time when creating content for your email list or former customers. So you include special event information, sale coupon codes and links to products with every piece of information you send out.
Before you send that next sales email, create some content–social media posts, emails and short notes–just for the sake of connecting with your people. Send or post something just because, not because you're trying to make a quick sale. You'll stay in front of your audience's eyes and make them feel good in the process. That, not a coupon code, is much more likely to drive a new sale.
When you commit to something – do it!
Being true to your word is something many of our parents valued and taught us. Unfortunately this courtesy got lost along the way. Many people will verbalize a commitment either with no intention of following through, or at the last minute just decide they aren't going to do it. Seriously? Do they not understand that their broken link in commitment possibly affects an entire chain of events?
Here lies an opportunity for all of us. Following through on your word is so infrequent these days that you can catapult your credibility when you're one who does what you say you'll do. Remember, it's okay to say no to things. But when you say yes, do it!
Be respectful of time
Time is one of our most valuable commodities. Everyone expects things fast. Immediate gratification, be it right or wrong, is part of our culture. When you deal with the public, you have to recognize this to be so.
Being respectful of others' time means when you call someone on the phone, ask if they have time to talk. When you have a meeting, be prompt. When you see a potential customer waiting to talk to you, cut short your social conversation so you can help them out. If you say you need 10 minutes of their time, then it's 10 minutes of their time unless they say they can extend the call or meeting.
Do I sound preachy here? I don't mean to be. Well, yes I do! But I'm reminding myself here too. So take it for that and be mindful of these Courtesy in Business Checkpoints. We all work too hard on our businesses to have communication issues like these bring us down.

Print This Post


For more free business support consider listening to my podcast Gift Biz Unwrapped where I interview gifters-bakers-crafters-makers who share how they started and built their businesses. Want to talk with me directly? I'm only an email away. I'd love to hear about you, your business and what you're working on right now. sue@suemonhait.com