3 Questions to Help You Decide. Should You Purchase that Online Course?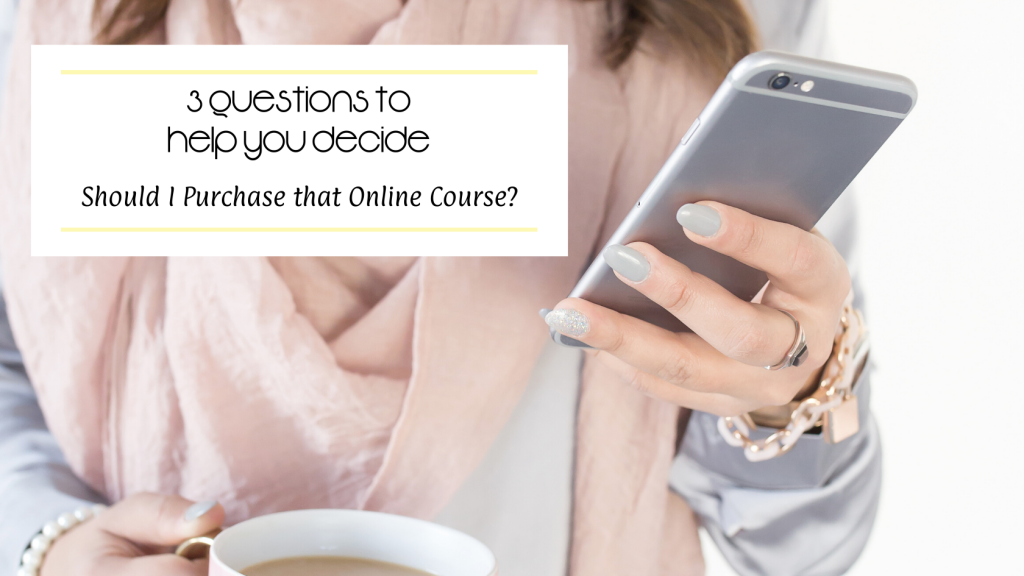 Go online and WOW! I don't know about you but I'm swamped with offers for virtual courses. One after another after another as I scroll down my Facebook feed or open my email.
Many spark my interest. I've definitely taken my fair share. I also offer courses now so I'm part of this pack.
Some of these courses can be tremendously valuable. Others … not so much.
Course pricing ranges from free to thousands of dollars. How do you know if you should make the investment?
Here are 3 Questions that will help you decide.
Should you purchase that online course? 
1. What is the end result and does it fit within your overall plan?
The shiny object syndrome is alive and well! It's easy to get distracted and jump from one project to another. What's left in the wake are a number of ambitious goals half completed but nothing to show for your investment of time and money.
The first thing you need to do is decide whether the course you are considering is in line with the goals you have set for yourself. What are you trying to accomplish in your business right now? Does the content of the program provide the information you need to move you closer to that goal?
Part of being successful lies in the ability to focus on one or two overall objectives and to stay laser focused on activities that back up those objectives.
FOCUS – Follow One Course Until Success


John Lee Dumas, EOFire Podcast
If you see a course that is attractive but isn't in line with your plan. Keep a note and consider it later as you decide what your next goals will be.
Yes, it's true. Some courses are only open for enrollment during a set time and then close. But I guarantee you, they will open up again and you can join when it's right for you. This way you can also plan to coordinate a business goal around the topic of that course.
2. Do you trust that the coach/trainer has the experience and knowledge to be credible?
There is good and bad with all information posted online – from websites to social media platforms.
It's good because never before have we had the ability to reach so many people with our messages. We don't have to ask permission. We don't have to spend a lot of money. We just put up a website or post.
Here's the potentially bad part.
People are going to portray what they want you to think and know about themselves and their business. You can't fault them. Don't we all do the same? We're not lying (hopefully). We're presenting our best self.
When you find a course that aligns with your current goals, determine whether the person behind the information is credible.
In my eyes, if they haven't done what they're teaching, then I question how much they really know. If it's a weight loss program, have they lost weight or do they have clients who have lost weight through their system? If it's a business coach, have they ever owned a profitable business? What's the background to the claims they make?
Find out whether online course creators have direct experience and have seen results by doing what they're teaching. I'm not saying not to buy a course solely based on this information. But it should weigh into your decision.
There are also people who create online courses after researching a topic and then they share that information through a course. Maybe that's okay for you. They are gathering information and adding their own spin. They are also saving you time so you don't have to do the research yourself.
Only you can determine for yourself whether a course instructor should have first hand knowledge/experience or whether it's okay that they are consolidating information from others.
3. Am I confusing online popularity with the ability to provide results?
In a way this goes hand in hand with Question 2. Make sure you don't equate a Facebook or Twitter following of 230K to be an endorsement of someone's ability to produce a quality online program.
There is not a direct link with high social media platform followers to quality courses or a profitable business. You'd like to make that assumption, but it's not true.
This is just one more piece in the puzzle to help you decide before making an investment.
Making your final decision
In the end, as business owners, we are responsible for every action we take. There will be times when in hindsight we should have done it differently. There have been many of those for me.
These questions are intended to help you make the right decision for you. They are a filter for selecting the courses that are most likely to provide the results you're anticipating. In the end, it's always your choice.
Once you've analyzed and purchased, it's done. That's exciting! Move on to learning!
The next step
The next step is to make sure you get as much value out of your training as possible. Stay tuned for the next article where we'll cover that.

Print This Post

For more free business support consider listening to my podcast Gift Biz Unwrapped where I interview gifters-bakers-crafters-makers who share how they started and built their businesses. Want to talk with me directly? I'm only an email away. I'd love to hear about you, your business and what you're working on right now. sue@suemonhait.com