How to Use Hashtags for Your Product Business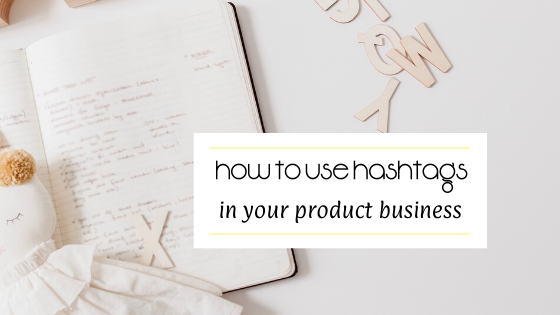 So discouraging! You're posting regularly to social media, but your followers aren't converting to customers. Or you've been trying to grow your following but no matter what you try, your numbers remain the same—okay maybe you see a little increase. Either way, you know the results can be so much better. But how? Start using hashtags for your product business!
It might be the content you're posting on social, OR it could be the hashtags you're using (or not using). If you've already played with your content, now it might be time to focus on your hashtag game.
Hashtags are keywords or phrases, written without spaces, that start with a number or pound (#) sign. They're essentially a way that people search for their interests on social media because they aggregate all the content that used that hashtag within a post.
And they're also a really easy way to "accidentally" get found by new followers, making them a very powerful prospecting too—when used correctly.
The problem is that many business owners don't know how to use hashtags properly. This is also your opportunity!
It's natural to select hashtags that apply to you and your business…like #smallbusinessowner or #etsyshop or #candlemaker. Yes they will attract people to your social media pages, but they won't bring you the right people. With these hashtags you're being seen by others who do what you do—your competitors, if you will. But you want to attract people who will buy from you. That's the key.
How do you determine the best hashtags?
Hashtags need to be more personal and specific. The hashtags #candlemaker or #candlemakers, which yield 235k and 23.5k results respectively, are way too broad. They also serve to attract others like you, not your customer as we just discussed. Sure, you make candles, but can you be more specific?
Think about what your potential customers are looking for. Use your geographic location, a scent that you make or a type of candle you specialize in. Something like #romanticcandles and #candleloversunite are better options with 1000 and 5000+ posts respectively. It's also okay to include some larger hashtags such as #candleloversofinstagram with 14.4K posts.
Additionally, you can choose hashtags that speak of the result of your product. Consider things like #citrusscent or #bathroomdecor. Get creative but think of your customer. What will they search for? What words will they use?
Selecting your hashtags
Finding the right hashtags is based on trial and error. Like Goldilocks, you don't want to use hashtags that have too many followers and posts and you don't want to use hashtags that aren't followed enough. You want to find the hashtags that are just right.
In Instagram, do some general hashtag searches. Use the search icon at the bottom of your main page. Then type in hashtags in the search bar at the top. A search for "#phoenixbakery" yielded the following: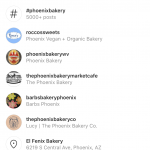 You'll notice that only one hashtag appears in the results, along with a number of bakeries. With 5000+ posts, this may be a good hashtag for an Instagram account with less than 1,000 subscribers. If you have more subscribers than that, you can easily use a hashtag with more posts.
Why limit your hashtags based on your follower number?
Hashtags that have huge followings and posts are crowded, making it less likely that your account will be found among all the other posts. Think of it this way: What well-known brand is your biggest competitor? Using a big hashtag is like trying to keep up with the order production of a big-name brand. It's just impossible to do.
The benefit you have as a small business is that you get to be personally involved with your customers and your products. And your hashtags. Those big names can't do that.
How many hashtags do you need?
Social media platforms change algorithms regularly, so you'll want to pay attention to current best practices when you post. Furthermore, best practices vary depending on the platform.
Currently you can add up to 30 hashtags on Instagram but I'd recommend sticking to no more than 28. Recently, Facebook just announced that hashtags are acceptable and here I would post no more than 5-7. I recommend researching about 100 hashtags, specific to your location, type of product, etc. Break them down into various categories and then alternate them on your posts. Additionally, use a few hashtags that represent the topic or the image of the post, like #pinklemonade or #hammocktime. This attracts new eyes and keeps your social posts from getting stale. Plus you are showing the algorithm that your hashtags are aligned with your content, meaning it will be seen by more people.
Where should you use your hashtags?
Once you have your list of hashtags, be careful about which social media platforms you use them on. It's common practice for small businesses to auto-post Instagram posts to Facebook. But common practice doesn't make it good practice.
As just mentioned, hashtags are now welcome on Facebook. Before, when your Facebook post included hashtags, it looked out of place and obvious that you were reposting from Instagram. This is still taking hold on Facebook and we'll see if it catches on.
To see which platforms should include hashtags because it's native and best practice, just take a look at how others who keep up with social media trends are posting.
Create your own hashtag hub
Although you can't "own" a hashtag, you can create a new hashtag that speaks specifically to you. How do you create your own hashtag? Just type it in! Then include it in all your posts to start collecting a series of posts that are all yours. This doesn't mean that someone else might not use that hashtag. But if it's original it's not likely. As an example, take a look at mine #giftbizunwrapped.
Ideas for unique hashtags for your hub could be your company name, a tagline associated with your business, the more original the better. You could even create a hashtag around an event you're doing like #RazzAndJazzOpenHouse21. Then all the images with that hashtag will appear when someone searches for it.
Twitter and LinkedIn also use hashtags if your audiences are there, however you're limited by space on Twitter.
At the end of the day, hashtags are one of the best ways to get in front of more customers and a new audience, but it takes time and patience to do it right. Do your research when selecting your hashtags and then track your results in the insights section of your social media platform. If necessary, make some changes and see how those perform. It doesn't cost and thing and you can change them over and over again.
And don't forget to create a hashtag all your own! Happy #hashtagging!

Print This Post