How to Boost Your Product Sales Online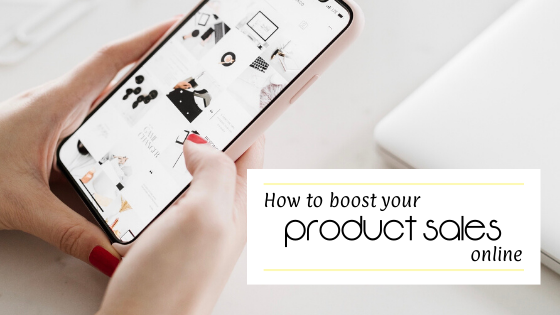 A lack of shows, farmer's markets being shut down and boutiques closed means that gifters, bakers, crafters and makers are looking to other avenues to get their products seen—and purchased. Are you ready to boost your product sales online?
For many business owners that means turning to eCommerce—sometimes for the very first time. Others already have an online presence but it's not producing the sales they need to compensate for lack of face-to-face options.
Something has to change. It's time to boost your product sales online so you can not only get back to your past monthly revenue but increase it from there.
To clarify, your online presence includes both your website and social media accounts. So let's look at these, one by one.
Beef Up Your Website
Your website needs to be an exciting place to visit. Just like a physical store, customers need to feel welcome and be interested in spending time there.
Your customers' journey begins when they first arrive on your website, no matter which page they land on first (and often it's not the home page). Your site should look and feel like the booth or store they saw in person—the colors, the messaging, the overall feel.
First off, your website should be easy to navigate, so your customers know exactly where to go to get what they're looking for. And like an in-person transaction, it needs to be comfortable and easy.
If your website is painfully slow, potential buyers will click away before the order is complete — just like how in-person customers will walk out of the store if the lines are too long. In their minds, they may think of coming back another day, but that rarely happens.
Stay Top Of Mind
Many online checkout processors have built-in order confirmation pages. If you can customize yours, don't let the sale end at the completion of one transaction.
This is the perfect time for an upsell or a free download. Care tips, recipes, or design ideas could all be good choices.
This gives them something of additional value while they wait for their purchase to arrive in the mail when they can't walk out of the store with it. It deepens the relationship and makes you stand out.
And, what if they get interrupted in the middle of entering their credit card information? Set up an email automation to re-engage them after abandoning their shopping cart. This works to save the sale.
Did you know that 70% of eCommerce purchasers leave before completing their sale? Of that, 29% were ready to purchase but something distracted them or they got disconnected prematurely. You can reclaim these sales!
Capitalize on Social Media
Like your website, consistency is key. You need to stay on-brand visually and with your messaging so your audience knows they're in the right place.
Additionally, video is the golden ticket to selling online, especially when customers can't visit you in the store and get to know you. Make it a regular practice to post videos of people using your product, behind the scenes with you creating your product or you online talking about your business so people get to know you personally.
Again, all of this helps to mimic the experience they'd receive visiting your booth.
Virtual shopping shows are also all the rage right now, giving customers an almost in-person experience of shopping at your store. Hear all the details of how to do this on a recent podcast episode with Vicki Adrian of Adrian's Boutique or with Veronica Staudt of Vintage Meet Modern.
Remember when posting about your products on social media, be sure that any links go directly to the product you're promoting. Too often, gifters, bakers, crafters and makers link just to their website home page, which makes it difficult for potential buyers to find that cute product you posted about. Make it as easy as possible!
Make It Personal
And finally, no matter if it's your website or your social media, you need to have an engagement strategy; don't just post and pray that people will find and support you. They won't.
Interact with your customers when they reply to a post. Direct message people who follow you or you're interested in connecting with. These activities build awareness of your brand and a relationship with you.
It is possible to survive in difficult times when you have the right systems and tools in place.
Often it takes just a few tweaks to get your website and social media right. It's definitely worth the time and effort to jumpstart and keep the sales rolling in.

Print This Post

---
Know someone else who might find this post useful? Please share it!
Just click your fav social button below.