Is There a Market for Your Product?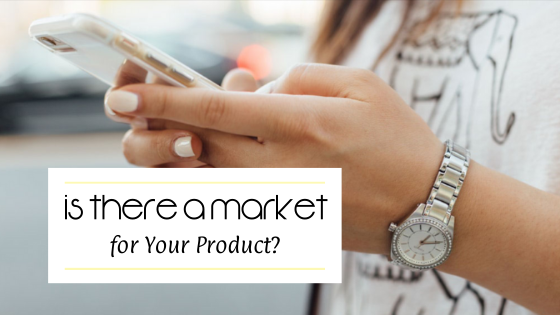 You have a gift, something you want to share with the world. Maybe you've already sold your product to a few friends and family members, but now you want to go big with a new business venture and market your product.
This is an exciting time and you might be ready to jump in head-first, but it's important to take your time testing your product to make sure there's a market for it. Product-based businesses can be pricey to start up and the last thing I want you to do is to spend time and money developing something that the market can't support.
I teach aspiring makers, bakers, crafters and makers how to Start with Confidence but let's take a look at how you can get started today by validating your product idea to ensure there's a market for it. Essentially, will it sell?
Set Up a Starter Business
Before you dive into a product business, you need to test the waters. I recommend creating a starter business, one that takes your passion and introduces it to an audience beyond your family and friends. This helps you determine whether your business is viable in the long-term.
Start by choosing a product you can sell that is unique and doesn't take long to produce. If production time is too long, you will spend too much time creating something that may not sell anyway. Let's start small and go from there.
Find the Right Price
Too many businesses shut down because they aren't profitable. In my experience, it's not a lack of sales that's the problem but rather not knowing what numbers to track and not charging the right price.
There's a lot to consider when pricing your product, including the raw product costs, acquisition costs, production time and margin. The two most overlooked of these is production time and margin. Product business owners don't account for the time it takes to make the goods and many fail to pay themselves (and instead reinvest in the business).
You're spending a lot of time and effort to grow your business; you should be compensated for it!
Test Your Product
To truly know if there's a market for your product, you need to put it out there and try to sell it. There are a lot of ways to do that, but I think the best option is to rent a booth at a local craft show. This allows you to get in front of a lot of potential customers who don't already know you. Plus, as you're working the event, you have the opportunity to talk to people at the show to find out what they like (or don't like) about the product.
Before attending, think ahead about how you'll display the product and accept payments. Cash is easy, but offering credit payments establishes more legitimacy and is often more convenient for people.
Be prepared to have conversations with people who approach your booth and know how you'll explain your product and what makes it better than something similar. You'll want to make each potential customer feel welcome by being courteous and paying attention to each and every one of them.
Identify Your Next Steps
After you've tested your product, it's time to take a step back and evaluate the results. Were people interested in it? Did you make sales? Are there some conclusions you can draw from your experiment? Your answers to these and other questions will determine what you should do next.
It's possible that there is a market for your product and you can start producing and selling in earnest. There may be changes you need to make based on observations during your test round. As frustrating as it might be, it's much better to make changes early on than to move forward and make more expensive changes later.
Owning your own business is such a joy and something that I love helping gifters, bakers, crafters and makers to achieve. It can feel like a lonely place, but there's a ton of support and guidance out there–if you just know where to look.
If you're in business to grow, it's important to continually look at ways to reach new customers and keep old customers coming back for more. If you're not doing this already, being visible in your local community and adding an online presence are the best places to start.

Print This Post
CLICK HERE for more direction on how to make sure your handmade product will sell.
For more free business support consider listening to my podcast Gift Biz Unwrapped where I interview gifters-bakers-crafters-makers who share how they started and built their businesses. Want to talk one-on-one? I'm only an email away. I'd love to hear about you, your business and what you're working on right now that's helping create success in your life. Reach me at sue@suemonhait.com.