How to Strengthen your Business during Downtime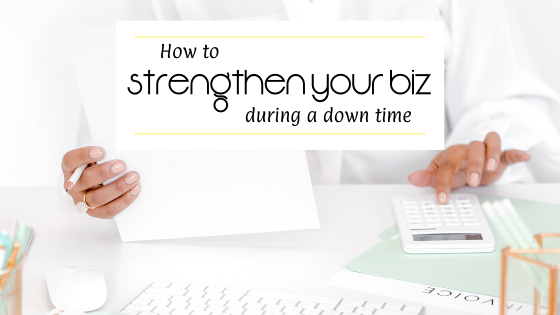 Every business has downtime–either it's a seasonal business, a traditionally slow month or possibly a pandemic wreaking havoc across the globe. We all know this is no longer a far-fetched possibility!
Wherever your downtime comes from, it's important to use it wisely. In the case of unexpected business decreases, give yourself some time to grieve a loss of income, but then pick yourself back up and develop a plan to move forward.
Many seasons or months of slow sales are predictable based on your product. In these cases, you know they're coming and can schedule this time to strengthen the foundations of your business and come out of a slow period even stronger.
Align Your Brand
It's critically important to have a recognizable brand. One where people see you or your products and immediately know who you are and what you stand for. An aligned brand will attract your ideal customers through the right look, feel and messaging.
I recommend listening to my podcast episode with Lindsey Johnson of Verity & Co. where we talk about your logo and brand colors, designing your website and being consistent across all platforms (website, social media, craft show displays, etc.)
You can literally create your entire professional visual brand in a couple of hours after hearing Lindsey's suggestions.
You might feel like you don't have time to update all the aspects of your brand during your busy season, but it's worth setting aside time in a slow period to spruce things up and strengthen your business online and off. It puts you in a professional light and will serve you in the years to come.
Tighten Up Your Systems
Does your business run like clockwork, day in and day out? Most businesses don't, and while you shouldn't expect it to run perfectly all the time, a little more structure and automation won't hurt.
Tightening up the systems in your business will help it to run more smoothly when things pick up again. As an example, make sure you have a standard procedure for every new order. This would include how you communicate with the customer … to how you fulfill the order … and everything in between. Try writing down every step you take on your next order and then look at what you can automate or do in a more streamlined manner on the next order.
Also consider the systems on the backend of your business. Look at things like how you follow up with prospects, developing your marketing or promotional calendar and even how you research potential suppliers and wholesale vendors.
Documenting systems like this is a tremendous help when it comes to hiring and training employees too. Not there yet? That's okay! This is the perfect time to get your system down, right as you're growing, so you can strengthen your business at the same time.
Develop Your Marketing Plan
A lack of marketing doesn't always cause a lull in business and it may not be the ticket to miraculously get you out of it either. But marketing is a very important part of running and growing a business, so use your slower times to get a plan together and start gaining more visibility.
One of the most important parts of your marketing strategy is your email list. Are you keeping in touch with your current and past customers through regular nurturing emails? Are you offering value and finding ways to get to know them better – not just selling to them email after email?
Listen in to my episode with Abby Herman, where we talk about how important email marketing is for your business growth. There are a lot of other ways to market your business too, like using social media, focusing on influencer marketing and asking for referrals.
Hone Your Elevator Pitch
How comfortable are you sharing what niche you serve in your business and what problem you solve? If you get nervous at networking meetings or fumble over your words when you meet someone in the (hypothetical or literal) elevator, this is a great time to hone your elevator pitch and get really comfortable with talking about your business.
I encourage you to use a simple framework to create your elevator pitch. Answer the questions: What do you do? Who do you do it for? What is the outcome of what you create? For example, "I create handmade gift baskets for busy entrepreneurs who want their customers to feel special." Or, "I create vintage-style jewelry for women who want to freshen up their style."
Write down your elevator pitch and practice it before every networking event, whether it's in-person or virtual. Don't worry about reciting it word for word, but rather have the general context in your head so you can tweak it for the audience you're in front of.
Look at Your Financials
When you see a leveling off or decreased sales, your financial status is understandably your biggest stressor. Take a deep dive into your financials. What can you cut back on? Where can you negotiate a new price from a vendor?
To review your financials, I recommend listing out all the expenses that have cleared your bank over the last three months. If you have a bookkeeper working with you, it might be a good idea to do this step with her. At the end, you'll have a solid current understanding of what you need to make each month to get by, and you'll have a plan of action for reducing expenses in the future.
Tune into my episode with Lynne Somerman, a financial coach, for some practical money tips and next steps.
Business doesn't have to come to a screeching halt because it's a slow season or there's something beyond your control that's keeping your doors closed. Instead, look at this down time as the right time to strengthen your business and get to all those things that you've been putting off. In this way, you can come out of the slow times even stronger and ready for all your future sales.

Print This Post
If you're interested in learning how I get so many things done during both my busy and down times, I've created a video for you to show you my system. It does include use of my Inspired! Daily Planner – but you can integrate this system into any planner you're already using. No opt-in required. Enjoy!