199 – All the Secrets to Going Wholesale with Katie Hunt of Tradeshow Bootcamp
Podcast: Play in new window | Download
Subscribe: Apple Podcasts | Android | RSS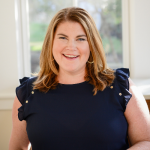 Katie is the founder of Tradeshow Bootcamp, host of the Proof to Product podcast, a business strategist, and mentor to creative entrepreneurs.
She's helped more than 850 brands get their products on the shelves of retail stores big and small. Her clients' products can be found in Target, Anthropologie, Nordstrom, The Container Store and independent boutiques around the world.
Katie is a firm believer in professional development, surrounding yourself with community and pushing 'go' even when you might not feel 100% ready.
Business Building Insights
Focus on your product first. Make sure everything is in place and you are prepared if you decide to pursue wholesale.
As you learn about wholesale, start with small independent shops.
Initial contact can be through an email that is brief, to the point and includes a link to your catalog.
Being professional at all levels will call attention to your business and help you get repeat orders. This includes order accuracy, timeliness and following up with requests.
Building authentic relationships with customers will result in growth for your business.
Ask people how they like to  communicate and then use that channel when you work with them. For some it will be email and for others it may be a phone call or even Facebook direct messages. You never know!
Build your own list of potential wholesale clients. Don't buy lists. It's quality over quantity.
At trade shows, connect with as many people as possible. It's about the conversations.
Resources Mentioned
Anything You Want by Derek Sivers
Storybrand by Donald Miller
Box or Boutique with Bob Hurley
Contact Links
Website
Facebook
Instagram
Twitter
LinkedIn
Gift Biz Resources
Learn to make money doing what you love. You're a gifter, baker, crafter, or maker … and you're stuck in a day job. You'd love to turn your one-of-a-kind jewelry or heavenly chocolate into a profitable business, but you have no idea where to start. How the heck do people turn their creative business dreams into reality?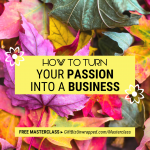 Learn the ONE thing that will take you from 'hobbyist' to 'pro' in no time
Discover the 5 crucial steps to give your business a solid foundation and set you up for massive growth
Find out how to be 2 steps ahead in your business so that your customer starts chasing you!
It's time to get out of your rut and dive into your future headfirst! Stop wondering about your next steps — instead, pour yourself something delicious, sit down, and let me show you how to turn your hobby into a money-making business.
If you found value in this podcast, make sure to subscribe and leave a review in Apple Podcasts or Google Podcasts. That helps us spread the word to more makers just like you.
Thanks! Sue