10 Action Steps to Ensure a Trade Show Results in Business Growth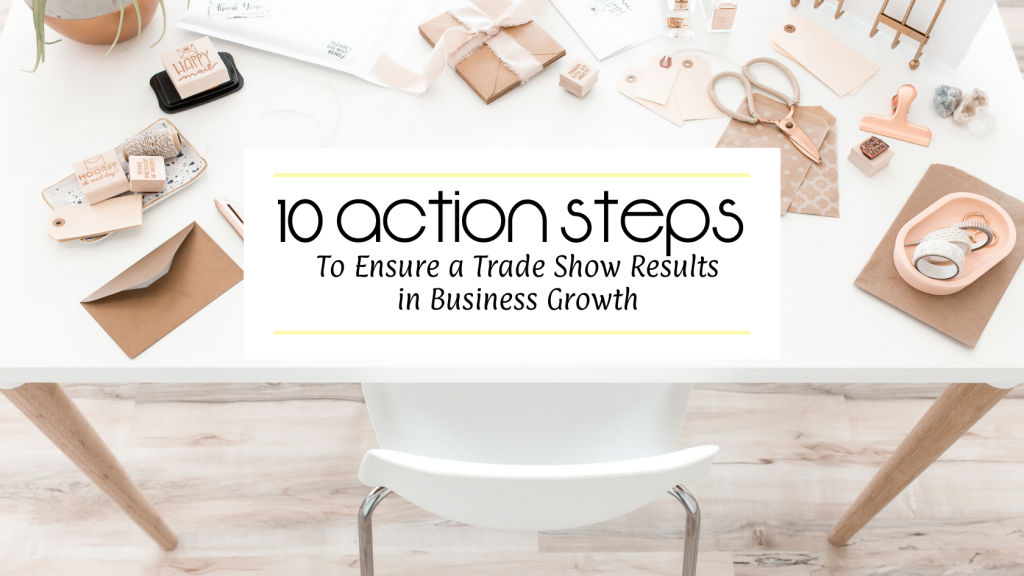 As a business owner, it's important to continually learn and stay up to date both in your industry and with new technology. You can do this in a number of ways. There are virtual courses, trade shows, conferences, and loads of free online information.
A trade show or conference offers a special opportunity because of the face-to-face interaction they provide. You can meet people in your industry, attend live presentations, and see products in real life.
Once you've found a show to attend, how do you make the most of your investment of time and money?
Most people just pack their bags and go. No preplanning. No strategy. They show up and see what the experience provides.
By doing this, they are rolling the dice as to whether they'll get anything out of it at all. Worst case, they spend time and money with no return and possibly a huge hole to dig out of if they overspend on product purchases.
Let's do this right shall we? Here are 10 Action Steps to ensure you get as much as possible out of any event you attend.
Pre Show Planning
Define Your Goals
There are a number of reasons you may decide to attend a trade show or conference. Here are a few:
– To see what's new in products or in the industry overall
– To restock product from current vendors since many offer show specials
– To strengthen relationships with your vendors
– To take classes so you stay current and enhance your business intelligence
– To meet new people in your industry for networking and collaboration
Consider where you are in your business right now. What are you working on? What information do you need to acquire to fulfill your current objectives? Write down 3 goals you have for attending this trade show. These are the things you want to make sure you've covered before walking away.
Travel Plan Strategy
I like having a file folder that I take with me for each show I attend. On the inside cover I write down what needs to be done. This includes purchasing airline tickets, making hotel reservations, signing up for the trade show ticket, badge registration, car rental, transportation to the hotel, etc. Once these things have been completed, I put the confirmation paperwork in this folder. I then check off each task so at a glance I know everything is covered.
Also stored in this folder is information relating to the show. This might include mailings I've received, information I've printed off the show website, whatever I think I might need at a later date. I also write the trade show and class hours on the file so I don't have to shuffle through papers looking for it again later.
Packing for Success
It is amazing how many people make the same packing mistakes. I attend 8-10 shows each year and hear these frustrations time and time again. Here are the top two:
"My feet hurt. I should have worn more comfortable shoes."
Bring at least two pairs of comfortable shoes preferably of different heel heights. Resist the urge to include those brand new shoes you just took out of the box and haven't broken in yet. You will regret it!
"It's so cold/hot in here."
On the trade show floor, the temperature is really cold first thing in the morning because they are preparing for all those warm bodies to heat up the room. Believe me, this happens quickly. Additionally, the temperature in the education rooms is intentionally cool because it helps with attentiveness. The best solution is to dress in layers that you can easily put on and take off.
You also want to dress in the style for which you want to be known. If you are a professional business woman, don't go to a show in torn up jeans or a sexy tight dress. Like it or not, people form impressions unconsciously by what they see. Use this in your favor and dress the role.
Finally, make sure you bring your camera, phone, pen and paper for notes, and business cards. So many people forget their business cards! To help you out with packing, I've made you an all-inclusive packing list. You can grab it here.
At the Show
The Logistics
Once I arrive, I like to do a couple of things to prepare for the start of the show.
First, I make sure I know where the convention center and/or activities will be held. If possible, I pick up my badge right away. This helps to avoid crowds right before show opening. I also make sure to understand my options on how to get to the show if it's not in the hotel where I'm staying. It's great if it's within walking distance. But if not, I find out about shuttles and time schedules. All this so I don't have to scramble in the morning.
I also take out and hang up my clothes for each day. If they need ironing, I do that all at once. Then I'm set for the entire show.
Additional Tip: Once I'm done wearing an outfit, I immediately pack in back in my suitcase. That way when it is time to leave, most of my packing is already done.
Keeping in Tip Top Shape
Shows can take a lot out of you. You're walking around and talking all day long. Make sure you treat yourself right so you have as much energy as possible. By this I mean:
Keep hydrated – Drink water throughout the day. Air travel and trade show floors can be dehydrating. If you're at a show where you're sampling food, this may cause problems too because you're having a little of a lot of different flavors, sweet, savory, and spicy. All that mixed together may leave you feeling a little queasy. Drinking water dilutes this and can help prevent stomach upset.
Bring healthy snacks – It's hard to find healthy things to eat at shows. Grabbing a piece of fruit from the breakfast buffet or a bag of nuts in your purse may be a savior instead of the nachos and cheese or give away candy bowls at every booth.
Control drinking and get enough sleep – These go hand in hand. If you're serious about being at the show, that means party but with limits. You want to be alert and energized for the next day, not hung over and barely there.
Vendor Selection and Planning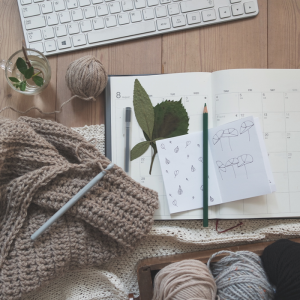 Make a list of the vendors you want to see. It may make sense for you to separate them in to existing vendors and potential vendors. Then identify their booth numbers on the show floor. In this way you are creating an action plan. You will know in each aisle who you want to see and why. This eliminates wasted time when you have to backtrack because you remember someone you want to visit and you unknowingly passed them by.
You will also encounter new vendors. When you see one, you have two choices. Either step in and learn all about them right away. Or take their information to come back to after you've gone through the whole show. No matter what, make sure to put the booth number on their info so you can quickly find them again!
Setting a Budget
Before you attend a show, decide how much money you can comfortably spend on the trade show floor. If you're already in business, the majority of your budget may go to restocking from vendors you already know. But leave a portion of your budget, say 20% or so for new products. There will always be something that you'll want to take advantage of while you're there. Plus, new products liven up your shop. You want to continually be presenting new things to your customers so your line doesn't become stale.
If you're just starting a business and this is your first trade show, then plan in advance what type of products you will carry. Do research ahead of time and designate specific dollar amounts for each category/product.
Now – stay within your budget! It is dangerously easy to get caught up in the excitement of new products and all the show pizazz so that you overspend. When you get home you'll only have to dig yourself out of a big financial hole. This is a sure path to financial disaster and the reason it's important to put the budget together in the first place.
Ending and After the Show
Post Event Processing
As the show nears the end, go back and review your goals. Have you achieved what you set out to do? Do you have your answers? If not, now is the time to finish that up. These goals were set with a clear head before all the distractions of the show. You want to make sure to stay true to these objectives.
Once you're home, the work is not over yet!
Did you find some vendors that you put in a parking lot for consideration in the future? Did you meet anyone that you want to get in touch with in the future? Set up a system to store this information. It can be as simple as a file folder. But keep this information in a way that makes sense for easy access in the future.
It's a good idea to have back up vendors if something happens to your main source for a product. Be sure to keep a separate file folder for these vendors.
Post Event Review
While it's still fresh in your mind, answer this question. Did you get enough out of this event for it to be a repeat next year? Be brutally honest here and don't judge the event on how much fun you had. Consider whether your goals were accomplished. Did the financial investment produce results that will advance your business?
Don't worry if the answer is no. There are many trade shows and conventions available these days. You can definitely find another one to try.
Taking Action
Finally, if you took classes, what did you learn that you want to put into practice? If you bought new product, how are you going to promote that product to draw attention and new sales to your business? If you met someone that would be great for networking, how will you follow up with them?
Write down 3 specific actions you will take as a result of this event. Then schedule the time to actually do them.
One of the most frequent things that happens is someone spends all this money on training or purchasing and comes back to the office and jumps back into business as usual.
Think of each show as an opportunity to up your game … to make changes, even small ones, that will grow your business.
Trade shows can be a lot of fun. From meeting new people and seeing new products to learning new ways of doing business. It's truly a valuable opportunity for you and by following these steps, you'll get the most out of any event you attend.

Print This Post
For more free business support consider listening to my podcast Gift Biz Unwrapped where I interview gifters-bakers-crafters-makers who share how they started and built their businesses. Want to talk with me directly? I'm only an email away. I'd love to hear about you, your business and what you're working on right now. sue@suemonhait.com