6 Things to Consider When Creating Your Logo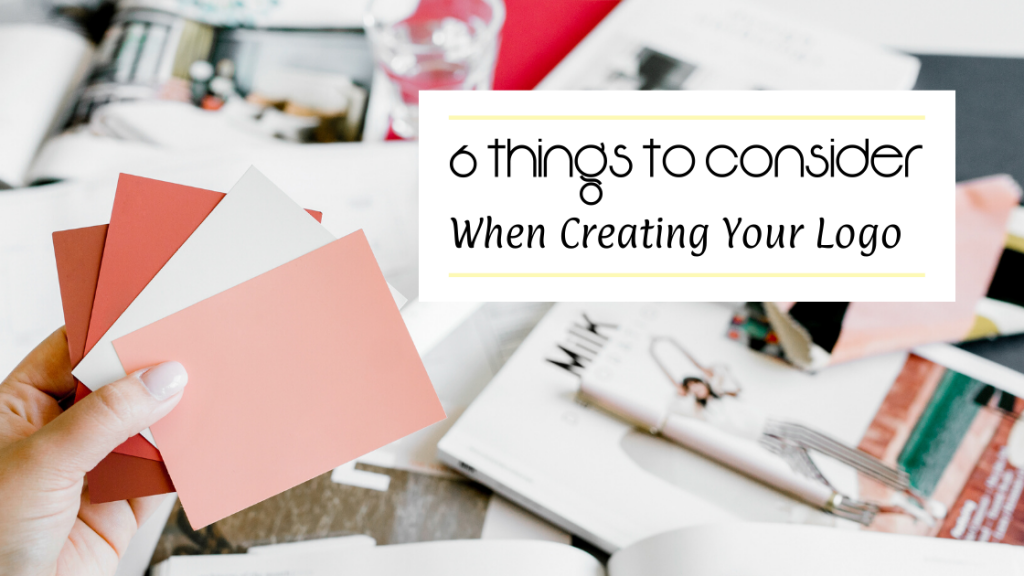 You've decided to start a business and you have a company name figured out. Congratulations! You're at the beginning of an exciting journey. Soon it will be time to think about creating a logo.
But first go grab your domain name* and company name on all social media platforms**. Trust me, life is so much easier if all of these elements are the same. So you don't forget – go do that right now. I'll wait.
Once that's done, it is time to start thinking about the visual representation of the company – meaning your logo.
How do you go about doing this? Where do you even begin?
Understand that a logo is just one element of many that make up an overall brand. Your brand includes everything a customer sees and experiences.
It's your logo, the look of your social media platforms, your store atmosphere (retail), your website (ecommerce), the way your phone is answered, how your associates interact with customers … literally everything.
These things form an impression about your company.
It's important because for you to build trust, all of these elements must give the same vibe. That way people know what to expect from your business and they will feel comfortable and confident when dealing with you.
Here are 6 Things that will help you decide on a logo that is right for you.
Define the "Feel" of Your Brand
When a customer makes contact with you for the first time, they start to develop a "feel" for your business. You can define and control this.
What two or three adjectives will describe your new company? Are you crisp and professional? Or are you friendly and casual? Write these down somewhere. The logo that you create should be aligned with these descriptors.
As you move forward with your business, filter everything you do against these adjectives so you remain consistent with the image you present to your customers.
3 Logo Components
Overall there are three possible components to a logo.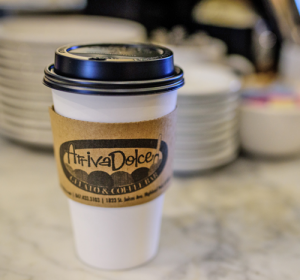 Business Name – The company name in your logo can take several forms. It can be portrayed only by initials. It can be your full name written out in a single font style. Or it can include a creative combination of font styles.
Image – Optional. Not all logos have to have an image. Sometimes just the creative use of words and font styles is all you need.
If you decide to add an image to your logo, please do not use stock clipart or photography. You aren't fooling anyone and it comes across cheap and unprofessional. If you're thinking of going that route, it's better not to have an image at all.
Tagline – Optional. Taglines are often used to clarify what a business does. A catchy phrase can also help customers remember a business. If you decide to add a tagline, make it short and catchy. Think Nike (Just Do It) or M&M's (Melts in your mouth, not in your hands).
Visual Presentation
Colors – Select colors that reflect the feel of your business as we discussed earlier. You also want to consider colors that are attractive to your customer base and resonate with you. A quick google search will bring up information on colors to guide you.
Font Style – Go to a site like dafont.com  to browse fonts. You can put in your company name and all the fonts will come up for you to see how it would look. Remember that you can mix fonts to create something unique to you.
Size/Angle – Play with different font sizes and angles for the various words in your company name.  Great places to go for inspiration are Instagram and Pinterest. Search #logoideas or variations thereof to see thousands of ideas.
How to Get Your Logo Created
Here are three options for completing your logo. If you elect to hire someone for the job, make sure to give them as much information as possible including the decisions you've already made for images, font styles, colors, etc.
DIY – If you are efficient with a graphics program like Photoshop or Illustrator, you can make a logo yourself.
Online Designers – Check out a resource like fiverr.com or 99Designs.com and have one done for you. Typically you'll get several options to choose from and then the opportunity to revise it once or twice. Costs vary but you don't have to break the bank to get a good logo created.
Local Graphic Designer – See if there is someone at the high school or within one of your networking groups who will work with you on a single project basis.
Design Cautions
Simple and Clean – Don't get too detailed with your font. It should be something that will look good and remain legible in all sizes and places. Think about websites, business cards, posters, product labels, etc.
Multiple File Versions – You will want different types of files for different applications. Whether you do it yourself or have a logo professionally done, retain files with various extensions such as .ai or .psd, .jpg, .gif, .eps. A graphic artist will understand all this. Just make sure to ask.
Decide and Move On
Whatever you do, don't let this be a stopping point for moving forward in development of your business. Define a timeframe in which to get this project done. Then decide on an option that works and move on.
If you follow these guidelines, your result will be a logo that can serve you well. Once you're up and running, your logo can be updated and revised as your business grows.
Now go focus on other tasks so you can start bringing in sales.
Not sure what to do next? Check out this free document: 12 Steps to Starting a Profitable Gift Business.
The biggest reason people don't follow their dream and start their business is because they look at the big picture and it gets overwhelming. Just take it step by step. You can do it!
*My favorite place for domain names is www.godaddy.com
**Open accounts with Facebook, Twitter, Instagram, Pinterest and any other platform you think you may use right away or in the future.

Print This Post

For more free business support consider listening to my podcast Gift Biz Unwrapped where I interview gifters-bakers-crafters-makers who share how they started and built their businesses. Want to talk with me directly? I'm only an email away. I'd love to hear about you, your business and what you're working on right now. sue@suemonhait.com