273 – How to Get your Product Made Overseas with Brian Miller of Easy China Warehouse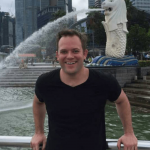 Originally from Trumbull, CT, Brian has been living in China for the past 10 years. He previously worked for one of the largest Chinese government owned manufacturers managing their North American Export operations.
Now Brian runs a 3rd party logistics warehouse in Shenzhen China. The company provides 3rd party logistics and shipping for Amazon FBA sellers and any e-commerce company creating products in China.
BUSINESS BUILDING INSIGHTS
Don't take shortcuts. The longer solid road is always the route to making your business sustainable.
Alibaba is a good start to identifying factories.
Developing specific quality control guidelines will help ensure your product arrives as expected.
Always place a small first order to test the factory.
Addressing the issues of knockoffs and people stealing your design; you can stay competitive as long as you provide value to your customer.
One way to handle quality control is to hire an inspection company to check the product quality before it is shipped to you.
RESOURCES MENTIONED
CONTACT LINKS
Join Our FREE Gift Biz Breeze Facebook Community
Become a Member of Gift Biz Breeze
If you found value in this podcast, make sure to subscribe so you automatically get the next episode downloaded for your convenience. Also, if you'd like to do me a huge favor, please leave a review. That helps other creators like you find the show and build their businesses too. You can do so right here: Rate This Podcast
Thank so much! Sue