216 – Handmade Business Wisdom Sprinkles with Juliet Galea of Caker's Chat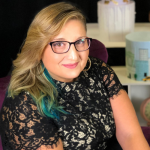 Juliet is all too familiar with the love hate relationship many sugar artists have with caking.
She began a new career in cake decorating 10 years ago. At the same time she was starting a family. She found herself alone, frustrated and unhappy doing the thing she loved most: expressing her love through sugar art.
Juliet's love for sugar art swelled after competing and winning three consecutive metals. The toll of working from home alone and doing it all herself was depleting the creative, loving and social being she truly is.
After meeting so many cakers just like her, she wanted everyone to know that they are not alone and has committed to helping those in the sweet community believe in themselves and their dreams.
Juliet's weekly Wednesday YouTube Show and Podcast Caker's Chat are filled with Wisdom Sprinkles to help sugar professionals with everything from mindset, marketing and the encouragement needed to compete and stand out in the industry.
Business Building Insights
The best life is one lived with intention.
Don't get stuck in the "do-do." You don't have to do everything yourself. As you get proficient, you can start outsourcing.
Meditation is as important as sleep because it helps you get back to your center.
Be involved in the community and let people know you're there for them.
Pay attention to who you're serving so you can create a community around that.
Social Media is a great tool but don't be its fool.
Keep a database of your clients so you can communicate with them for future business.
Invest in a mentor or someone who can help you move the business forward.
Juliet's Caker's Chat Challenge
Juliet is graciously offering two iron on Caker's Chat badges and a discovery session call. The winners will be the first two people who head over to cakerschat.com and sign up for her newsletter. So she knows who you are, I'd suggest you send another email telling her you're coming from the show. Good luck! I hope you're one of the first two!
Contact Links
Gift Biz Resources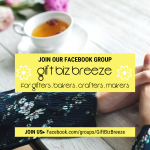 If you found value in this podcast, make sure to subscribe and leave a review in Apple Podcasts or Google Podcasts. That helps us spread the word to more makers just like you.
Thanks! Sue