142 – The Best Holiday Gift of All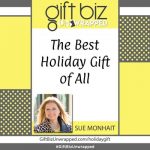 On this Christmas Day, I'd like to present a lighthearted, entertaining episode on the best holiday gift of all.
It's a holiday gift tale that crosses generations and religions. Sit back and enjoy this short story by O. Henry entitled "The Gift of the Magi."
The story transcends the materialism that is equated to gifting these days. In a world of bigger is better and more expensive equals higher status, it's important to re-ground ourselves in what the spirit of giving is meant to be. It should have less to do with the actual gift and more to do with the intentions and message behind the gesture.
The idea is not lost on me that you, as a listener to this show, are most likely a gifter-baker-crafter-or-maker. Your heart goes into the creation of your products and the goal is for people to purchase them (meaning material things) as gifts. Gifts for themselves or others.
One could call that materialistic. Or one could consider the deeper reason for the gift. To celebrate a life event, to share the sentiment of friendship or love, to extend an apology, or to offer support. There are a myriad of reasons for a gift.
When you've deepened a relationship and brought happiness, excitement and celebration into someone's life. That is a true gift.
I hope you enjoyed this variation of the show today and that you are experiencing warm and enriching moments with family and friends this holiday season.
Valuable Resources
The Gift of the Magi by O. Henry
Feel the pride and satisfaction of turning your passion into a profitable business. Become a member of the Gift Biz Builder program and access valuable videos, worksheets, and guides and connect with a community of gift biz builders just like you. It's time to get moving on your dream. Get started today!
If you found value in this podcast, make sure to subscribe and leave a review in Apple Podcasts or Google Podcasts. That helps us spread the word to more makers just like you. Thanks! Sue