Business Card Dos and Don'ts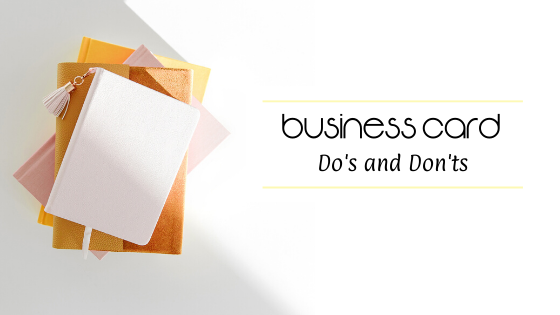 Business cards feel like the sign that you've "made it," right? They're tangible proof that you're in business and a force to be reckoned with.
If you do any networking at all (and you should), having a business card is important so your new contacts remember you and can recall your business for referrals. 
That said, there are some important things to remember when designing your business cards (and some big no-no's to avoid) so you don't waste your time and money on cards that get tossed in the trash. Find out more about business card dos and don'ts and do them right.
Important "Do's" for Your Business Cards
Keep your business cards simple
Business cards are small, with limited space for text and images. Rather than trying to cram in as much information as possible, focus on keeping the cards super simple. Only include the necessary information: your name, business name, web address, how to contact you (email or phone) and your physical address—but only if you have a brick and mortar store.
Resist the urge to add your tagline, all your social media handles and a blurb about what you do. That's just too much information! And I recommend you leave the back of the card blank so people you meet at events and shows can take notes about the products they want to buy or about your conversation.
Use traditional business card sizing
Picking out square, large format or even die cut business cards can be fun. They'll surely stand out, won't they? Absolutely! They'll stand out so much that recipients of your card won't know what to do with them. They won't stack nicely with the rest of the business cards, so yours will likely be tossed—or buried at the bottom of someone's purse.
Instead of having your business card stand out for being different, focus on having your products or personality stand out when you meet new networking connections. They'll be sure to add you to their contact list then!
Maintain consistency with your brand
You've taken the time to develop a brand—logo, colors, fonts, product packaging, craft show signage and overall feel. When you create your business cards, it's important to maintain that consistency there as well. This builds trust with your customers and it's so much easier for them to remember who you are when your business card looks just like the rest of your brand!
Avoid These Business Card Don'ts
Don't spend a lot of money
Dropping a lot of cash on business cards isn't worth the return you'll get on them. It's possible to get beautiful, branded and professional cards without breaking the bank.
Go for simple, one-sided, matte finish cards from somewhere like Vistaprint, my go-to for business cards. You can find ready-to-fill templates online which makes it easy to design them yourself. You can even use a design app like Canva. 
Don't automatically add your phone number
Sometimes it's appropriate, sometimes it's not. Think this through before you automatically include it. If you're a brick and mortar shop with a designated number, then yes. If you take orders by phone or have other customer service reasons, then that makes sense as well. But people can abuse your phone number. Thinking they'll get an answering machine, they may call you at all hours of the day or night. This is a lesson I learned the hard way back in the day. Another option is to have two versions of your card. One with and one without your phone number.  
Don't order too many
Chances are, something in your business will change in the next six to 12 months, or you'll decide you want to adjust something on your card. Don't buy so many business cards that you'll feel guilty and want to use them up before ordering new ones. There's nothing worse than having wrong information. Have you seen people cross out lines and hand write in an update? Totally unprofessional!
Paying attention to business card dos and don'ts is important because they're an essential marketing tool for your business. You need to have them on-hand during shows and at networking events. Carry them with you at all times so you're ready for that unexpected opportunity. But it's not necessary to put a ton of time, money and energy into them. Create a design, make a decision and hit "print" to get them done!

Print This Post