Complete Guide to Craft Show Preparation and Participation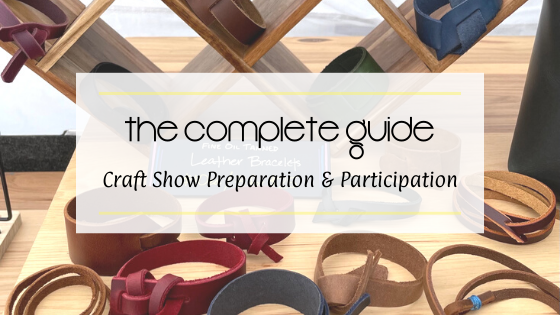 Social media and online sales are one thing. But in-person craft shows, bazaars, and farmer's markets still hold a solid place for sales and overall business growth. There's absolutely nothing that compares to being face-to-face.
If you're new to exhibiting at craft shows or you're looking to up your game, it's important to approach this strategically. Let's start by exploring how to select the right show for you and what you can do in the days and weeks leading up to the event to ensure you get all the benefits that participation can provide. You need a guide to craft show preparation.
How to Select Your Shows
Not all shows are created equal. And a show that's perfect for one maker may not be perfect for you. Take some time to do your research before signing up for a show. Here are things to consider:
Who will be walking the show?
It's important to know who attends the show you're considering. If your customers are typically local and it's marketed to that audience, then the show might be a good fit. If your audience is predominantly women with children, find out if that's who attends. A booth at a car auction would not be a good fit, however a space at a home and garden show might. Do your research to find out and apply a dose of common sense in your craft show preparation.
Who is putting on the show?
I always like to know the person or organization that is putting on the show. If it's been around a few years, chances are it's been successful in the past. This means that it will likely be well-run and well-promoted, both of which are incredibly important. If you don't know the organizer or their reputation, talk to others who have been vendors before and ask for their feedback.
What time of year is the show?
This is important because it could impact the success you have based on the product you offer. Makers who sell knitted items like scarves and gloves most likely won't do well in a spring show. But if this same maker created a loose shawl that's perfect for spring and summer, it might be a good fit after all. The point being, in your guide to craft show participation, consider the time of year in combination with your products and adjust accordingly.
What's the location?
Location is important for foot traffic. Find out exactly where the show will be—what streets, crossroads, etc. Then find out how difficult it is for people to get to the show and whether parking is readily available. Also consider accessibility and whether there are ramps available for wheelchairs and strollers if it's in a building versus outside. You want it to be as easy as possible for people to attend.
What's the cost to participate?
Cost shouldn't be the deciding factor of whether you participate in a show or not, but it is important to consider. A show that costs $400 for a booth isn't expensive if you can make $2,000 at the show. Likewise, a $100 show where you don't make a single sale or collect any solid leads is a waste of money and time.
Once you find your show and commit to participating, it's time to get ready. Here's what to consider as you're prepping for your in-person show.
How Much Product Should I Make?
There's really no easy answer to this question because the answer will vary depending on which show you're attending. You have to know what sells at which show and this is difficult to gauge if you're participating in a show you've never done before. To start you should use your best judgment and then you can revise as you get more experience with each show.
The most important thing in your guide to craft show preparation is to make sure your booth is easy to understand and represents the main product you're known for. Someone should be able to glance your way and know it's pottery or leather or jewelry. Too many unrelated products on display lead to confusion and you diminish your standing as a skilled professional maker. Your potential customer needs to immediately understand your specialty.
Additionally, having too many options (sizes, colors, etc.) of the same product is also a common mistake makers make. I talk about this more in my first Tips and Talk episode, but essentially you don't need to produce every product in every size. Instead, bring to the show your most popular pieces and options and have photos of other choices so they're able to be referenced if a customer asks about them.
What Should My Booth Look Like?
There's a fine balance between having a visually appealing booth that draws your customers in and a booth that's messy, unorganized, and jam-packed with product. I recommend looking at Pinterest for display ideas and even walking the shows you attend for inspiration.
One tip to remember is that your product should be the star. It's important that it stand out and not be overshadowed by display elements. Plan to create a balance between your product and materials or pieces used to highlight them. For example, don't display delicate jewelry on large, clunky boxes; use something that is compatible in style and accentuates your product.
Be sure your booth includes your company name and logo (which needs to match your website for consistency). Customers also love to hear about your story, so include that somewhere in your booth. It can be on a brochure or even a framed printout of your story.
And be sure to have a way to collect email addresses from customers and browsers so you can reach out to them later. This is often overlooked and a valuable opportunity is lost when prospective customers walk away and you can't contact them again. Remember, people aren't always in the market to buy your product right then and there…but they might be next month and you want to stay in touch with them for that sale to happen.
If your product is consumable, bring sample sizes (following health protocols of course). And for additional sales at the show, consider size options that shoppers can purchase and snack on while walking the show.
What Else Should I Consider?
As part of your guide to craft show preparation, there are other factors to consider as you plan out your next show.
The customer experience is a really important part of the impact you'll have and the reputation of your brand. You want to make a good impression and have booth visitors feel welcome, enjoy time spent with you, and leave with a good understanding of your product and you as the maker.
Regarding checkout procedures, have small bills and coins on hand for change if someone wants to pay cash. Create a checkout plan that includes a system and the tools for processing credit card transactions too. PayPal and Square have quick and easy options for in-person payments. If this is your first show, test out your process so when live sales happen, you're confident and ready.
Also consider packaging. How will you pack up purchases quickly so that your products are protected and easy to carry? Tissue, bubble wrap, and bags come to mind. It needs to be quick and easy for you and visually appealing and functional for your customers.
There's nothing like in-person shows because of all the value they offer that can't be achieved in any other way. You get to talk directly with people and develop a connection. Getting their email address allows you to continue building on that first meeting, and you'll also pick up followers on social as long as you remind them to take that action. That way they keep up-to-date on new products and other shows where they can come see you again.
As with anything new, planning for your first show can be initially overwhelming. Craft show preparation takes time and effort, but when you have a clear action plan, you see how doable it really is. And it's fun!
Want more support for your handmade product business? Join other inspirational and knowledgeable small business makers in our free Facebook group, Gift Biz Breeze.

Print This Post