237 – How to Use Influencer Marketing to Increase Sales with Sarah and Noelle of Berra Bites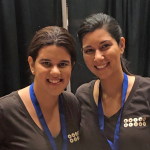 Two sisters in business together! Combining Sarah's culinary education, and Noelle's business background, the two put their minds together to create Berra Bites, which are dark chocolate covered fruit centers made with 100% pureed and pressed fruit.
Their goal is to create dark chocolate covered fruit bites that are different than the typical fruit and chocolate combos out there.
They love combining different types of fruit to make unique combinations that balance perfectly with dark chocolate.
In January of this year (2019) they launched their first fruit flavor and chose to use four types of berries to give their customers that pop of berry flavor.
Sarah and Noelle's newest and more exotic flavor, passion fruit and kiwi, brought a new twist on chocolate covered fruit with its strong tropical taste.
All Berra Bites are Project Non GMO verified, Kosher, and they only use Fair Trade Cocoa in their chocolate.
Business Building Insights
Before starting a business, develop your business plan. This initial planning is critical to your success.
Do a lot of research. Study the market and your industry. Reach out to people who are willing to share their experiences.
Obtain deeper market understanding by going to tradeshows and walking the floor.
For consumable products, think about the marketability of flavors. Will it be received favorably?
Focus groups are great for initial market testing. Have people try your product and get their feedback. Then adjust your product accordingly.
Take it one step at a time. Doing little tasks every day will result in big achievements over time.
Be very cautious of marketing scams and people promising you things that seem too good to be true.
Sarah and Noelle have made the decision never to do business with someone who approaches them. This drastically reduces the possibility of a scammer and gives them the most control over the process.
Resources Mentioned
Contact Links
Gift Biz Resources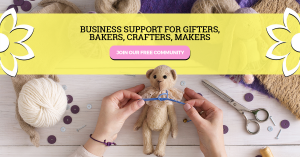 If you found value in this podcast, make sure to subscribe and leave a review in Apple Podcasts or Google Podcasts. That helps us spread the word to more makers just like you.
Thanks! Sue