242 – How Product Creation Evolves from Idea to a Business with Pamela Gort of Blingzy™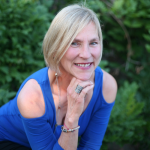 Blingzy™ is the clever way to store or bring your bling wherever you go. It's a unique jewelry carrier solution that is made of a patented combination of materials – a gorgeous fabric on the outside and a special grippy liner on the inside.
It all started just 5 years ago when Pamela lost her job. She decided to make a huge career shift toward giving back in a more personal way. So she founded Simply Sown, a for-purpose, socially conscious business.
Its purpose is to provide flexible sewing income opportunities for women in need. The tagline, "sewing seeds of kindness," reinforces the ripple effect of women helping women.
She wanted to launch her jewelry carrier invention, Blingzy™, but needed the right someone to sew it.
Fortuitously, she met Sr. Jean and Sr. Sheila from Hope House at a garage sale where they were selling a sewn tote bag. It was a magical meeting and they became Pamela's first partner.
The run a safe house for trafficked women and four of the women sew Blingzy™.
Business Building Insights
If you don't start your engine with why, you won't get anywhere. When you start with understanding your reason behind your mission, everything else will follow.
When a business idea comes to mind, think about whether the product can be made affordably and sell at a price that gives you a solid profit margin.
Always be open to changes and improvements throughout your business. Think of how this can apply to your product design, production and packaging.
Focus groups are important as you consider the pricing of your product.
You may feel you have a great product, but make sure there's a market for it through testing and feedback before moving forward with your plan.
Demonstrating your product at a craft or trade show helps people understand its value and use.
Be tangle-free. Get rid of the fears, doubts, self-limiting beliefs and all the stuff that keeps you from being your authentic self.
Resources Mentioned
Contact Links
Join our FREE Gift Biz Breeze Facebook Community
If you found value in this podcast, make sure to subscribe so you automatically get the next episode downloaded for your convenience. Also, if you'd like to do me a huge favor, please leave a review. That helps other creators like you find the show and build their businesses too.
Thanks so much! Sue