241 – Punch Up Your Presentations with Comedian Larry Bloom of Funnier By The Lake Comedy
Larry of Funnier By The Lake has been writing jokes and making people laugh his entire life. Growing up north of Chicago, in Wilmette, Illinois, what interest and talent Larry lacked in sports, he made up for with a passion for stand up comedians, and characters from movies and television, of the 60s, 70s and 80s.
Larry was a remarkably horrible high school and college student, and he often says that if those years were a book, it would be titled, Fear and Loathing on Campus.
Larry's stand-up comedy springs from a lifetime of experiences and a view of the world seen through a comedian's filter, in which humor can be found in everything and nothing is off-limits — unless it's not funny.
He can be seen performing on stage throughout the Chicago area.
Through Funnier By The Lake Comedy, Larry has made it his mission to bring live comedy to the North Shore.
Business Building Insights
Play with what you've got to survive.
For maximum impact, you've got to be memorable.
Know your audience well so you can speak with them in a way that will peak interest and spark interactions and support.
When you're talking to potential customers, catch their response in facial cues and adjust your message accordingly.
Your material (the information on your business and your product) is your fallback in a presentation. First play off of those in the room and the situation at hand.
Make sure your website is responsive and gives correct information. It should generate leads and help you succeed and grow. Find out what people need and walk them through how you can help them accordingly.
Make it easy for people to become your customers. Once in a while, step back and approach your company as a first time visitor. Does it present things as you'd like?
When someone lands on your website, make it immediately obvious what it is that you do.
You just don't shut off what you've learned previously. A past career, learned skill or experience can be used in a new business venture.
Resources Mentioned
How Starbucks Saved My Life by Michael Gates Gill
Contact Links
Gift Biz Resources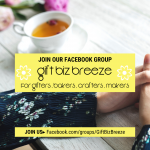 If you found value in this podcast, make sure to subscribe and leave a review in Apple Podcasts or Google Podcasts. That helps us spread the word to more makers just like you.
Thanks! Sue