100 – Top Takeaways from 100 Episodes with Sue Monhait of Gift Biz Unwrapped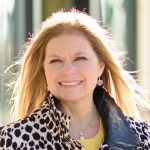 Wow! 100 episodes and almost two years have passed since the very first Gift Biz Unwrapped podcast went live … it doesn't seem like that long!
I feel fortunate to have interviewed so many impressive business owners and service providers to our industry. Over time, the audience has become defined as people who are Gifters – Bakers – Crafters – Makers. People who create or sell handmade products and are in the process of, or already have started their own business out of their hobby or craft.
I have learned so much hosting Gift Biz Unwrapped. Actually I pick up something new from each and every interview I do. Thank you to all my past guests. You have helped me produce a show that is giving value and encouragement to many. I have a great lineup ahead too. So do keep listening!
At this milestone, I want to reflect on what's been presented so far. I think you'll find it interesting. I did.
3 Common Threads
From my time working trade shows with my business The Ribbon Print Company, and from the answers I get on the show, I have found three common questions and equally similar answers come up time and time again. These are questions that people struggle with as they consider starting their own business. And they are questions that people rethink during the inevitable times when they bump up against challenges as business owners.
I find it fascinating that the answers and solutions are repeated so frequently. Due to this, I put a lot of weight into their credibility and reliability.
I want to start a business but what should it be?
So many creators have the desire to start a money making venture on the side or to replace their full time job. But what should it be? As creators our love and talents may spread across a variety of areas. Here are three Identification Points of how our listeners have figured this out for themselves.
What did you love to do in the carefree days of your childhood?
What sparks a passion inside of you? What gets your heart beating a little faster?
Keep your eye out for a single event or moment that gives you the idea of a lifetime.
What do I actually do to get started?
This is another spot where people freeze. They have their idea but it continues to be in their mind and not in their reality. It's because the idea of taking action becomes overwhelming. How do you actually start? What do you do first?
In each episode, I ask this question. The responses are similar but different. I do this for your benefit. Listen to these people and model their actions.
The trick is to do something … take action … start!
Kara – Kara's Vineyard Wedding
Common success traits of small business owners
This is the honest truth. Not everyone is cut out to be a business owner. This is evidenced by how many businesses open shop online and then the site lays dormant. Or they open in a retail shop only to close within the first year. Do you have what it takes? Consider these traits.
Resourcefulness
Determination
Love and Ease with People
Passion
My Conclusions
There are two important things that come out of all new business owners' journeys.
Nobody knows for sure what their initial idea will morf into when they get started.
Keeping your eyes open to new opportunities can result in something grand.
Where Should You Go From Here?
If you are looking at starting and/or growing your business, here are my recommendations for success.
Take action
Listen to this show for ideas. Talk with other local business owners for advice. Join a local networking group. Google online for ideas and suggestions. Attend a conference and classes. There are so many ways to figure out your next steps. The point is … don't just think … DO! If you're super serious, check out my master class called Gift Biz Builder. It goes in depth step by step on how to start and grow your business. It's truly a resource you can go back to time and again as you work on your business. If we're not currently accepting new students, jump on the waiting list.
Change your mentality. Failures are directional guides for new learning and improvements.
When you hit an obstacle, push on.
These are the times when most people stop. If you push forward you are separating yourself from all the others and your road becomes less cluttered. Think of a running race and you are breaking away from the crowd because you've jumped over hurtle after hurtle. Others fall, slow down or quit. You continue with less competition and the finish line right ahead of you.
Continued learning is always important.
Even the most successful and profitable businesses continue to invest in education. Systems change, the world changes, to stay relevant you must adjust as well. What worked even 5 years ago doesn't work as well today. You must keep up.
There you have it. What I think are some very poignent takeaways from the first 100 episodes of Gift Biz Unwrapped. I can't wait to share more with you.
If you know someone who is thinking of starting a business or who has a great story to tell … maybe it's you :o) please pass on the information about this show. It's all about paying it forward!
Much success as your journey starts or continues.
Sue
Contact Links
12 Steps to Starting Your Own Business – FREE GUIDE
The Ribbon Print Company Website
Facebook – The Ribbon Print Company
Facebook Group – Gift Biz Breeze
If you found value in this podcast, make sure to subscribe and leave a review in Apple Podcasts or Google Podcasts. That helps us spread the word to more makers just like you. Thanks! Sue