005 – How a Blog Brings in Sales with Kate Erickson of Entrepreneur on Fire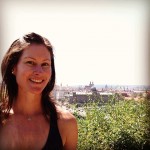 Kate Erickson is a creator, engager and implementor at EntrepreneurOnFire, a 7-day a week podcast that interviews today's most inspiring and successful entrepreneurs. She is also the host of Kate's Take: The EntrepreneurOnFire Audio Blog and author of A Beginner's Guide to Creating an Online Business (formerly, The Fire Path). Kate is passionate about helping entrepreneurs create systems and processes to promote efficiency and bring clarity to their journey.
Motivational Quote
 
Business Inspiration
Kate's always loved to write. So she's turned what started as a hobby into a career. [4:00]
Productivity Tip
Hear how Kate themes her days to allow her to be the most productive possible. [12:14]
Steps to Beginning a Blog
Three steps to getting started with your own blog. [13:31]
Success Trait
Kate believes her drive has led to her success. She continually keeps going. If something doesn't reach her expectations, she doesn't give up. She just tries it again with a different approach. [17:02]
Productivity/Lifestyle Tool
Rescue Time – With so many distractions and possibilities in your digital life, it's easy to get scattered. RescueTime helps you understand your daily habits so you can focus and become more productive.
Valuable Book
Essentialism by Greg McKeown
Contact Links
SPECIAL FREE OFFER FROM KATE
The Fire Path Book – Are you ready to create your own online business, but you're not sure where to start? Have you already created your own online business, but you're wondering what steps to take next in order to grow your business? If the answer is yes to either of these questions, then grab this special free offer while you can!
If you found value in this podcast, make sure to subscribe and leave a review in Apple Podcasts or Google Podcasts. That helps us spread the word to more makers just like you. Thanks! Sue