239 – Why You Want to Create a Business that Includes Semi Passive Income with Oksana of Oksancia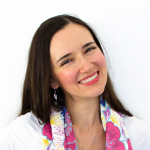 Oksana is the owner and designer of Oksancia Textile Design Studio and School. Her passion is to help creative people express their vision and connect with their customers by creating unique and beautiful repeat patterns and collections for their products.
Oksana has a Master of Arts degree from RUG university in the Netherlands. There she specialized in children's books and has illustrated two published children's books.
With a portfolio of more than 10,000 vector illustrations and designs, she has collaborated on more than 100 client custom design projects. Her designs can be seen on products that are available at Best Buy, Barnes and Noble, Amazon and CVS pharmacy.
Oksana lives in California with her amazing husband and sweet little girl. Together they love to make arts and crafts, read funny books and travel while collecting creative inspiration and adventures.
Business Building Insights
Gain product exposure by collaborating with others.
Make sure your business fits into your life and includes time for family and other passions. This can be accomplished by adding semi passive income into your offerings.
Create systems to maximize growth in your business. This allows the work to happen faster and, in some cases, automatically. It also opens the door for unlimited customers and creates time for new initiatives too.
If you have health issues or other limitations, investigate semi passive income options. Don't let that stop you!
When you have limitations, it helps to do something, no matter how little, to be productive each day. You'll see amazing results over time.
Resources Mentioned
Contact Links
Gift Biz Resources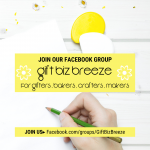 If you found value in this podcast, make sure to subscribe and leave a review in Apple Podcasts or Google Podcasts. That helps us spread the word to more makers just like you.
Thanks! Sue