124 – Adding Frosting to Your Business with Rebekah Wilbur of Rebekah Naomi Cake Design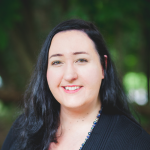 Rebekah Wilbur is a custom wedding cake designer and owner of Rebekah Naomi Cake Design. She is also the Managing Editor of American Cake Decorating Magazine.
Rebekah dedicates her free time to teaching live cake decorating classes, blogging about cake matters, demonstrating at cake shows, and creating online tutorials.
Recognized as a Satin Ice Artist of Excellence, she enjoys sharing her passion for cake decorating with others. Her style is instantly recognizable for it's stylistic sugar florals and refined elegance. Rebekah likes to draw inspiration from art, fashion, fabrics and textiles in the creation of her designs.
Rebekah has been featured in many notable bridal magazines. You can find her work as a contributing writer for Bridal Guide and several features in Harper's Bazaar Bride.
She says her greatest professional achievement as a cake decorator is creating a 14-tier cake for the wedding of Kristen Jarvis West. Kristen was the Chief of Staff to Michelle Obama.
Both the past First Lady and the First Daughter were in attendance at the wedding and enjoyed a piece of Rebekah's masterpiece!
Rebekah's Cake Design Story
Moving to the states and discovering her love of baking [3:52]
Getting paid was the turning point [6:25]
First action steps to being a true business [7:15]
Approaching the magazine with a dream in mind [22:26]
Candle Flickering Moments
The effects of turning your hobby into a business [13:55]
Business growth and pricing implications [14:47]
Business Building Insights
The power of an accountability partner [8:07]
Surrounding yourself with people already doing what you want to do [10:44]
Connecting with local competitors is a PLUS [11:37]
Proper pricing is not comparing your price to others [15:52]
Defining highly specialized products [17:23]
Dress for success – your website is your online presence [19:11]
Social media influence on sales [20:40]
Advice on your approach if you want to be published [25:52]
Meeting with clients as a homebased biz [31:29]
Industry specific networking [32:51]
Productivity/Lifestyle Tool
Hootsuite – Manage multiple social networks, connect with customers,
and grow your brand on social media.
Sharepoint – Share and manage content, knowledge, and applications to empower teamwork, quickly find information, and seamlessly collaborate across the organization. Reading and Listening
Contact Links
American Cake Decorating Magazine
If you found value in this podcast, make sure to subscribe and leave a review in Apple Podcasts or Google Podcasts. That helps us spread the word to more makers just like you. Thanks! Sue