190 – Taking Chances as You Start and Grow a Business with Kate Flynn of Sun and Swell Foods
Kate Flynn is the founder and CEO of Sun and Swell Foods, a healthy snack food company based in Santa Barbara, California.
Kate started her company two years ago with her husband, Bryan, after realizing that most packaged snack foods in stores are loaded with added sugars and preservatives.
Her mission is to create on-the-go snack foods that are made with only the highest quality, whole food ingredients, so people don't have to compromise their health when eating on-the-go.
Business Building Insights
Believe in yourself. You're the one responsible for your success.
Hold yourself accountable to the goals and promises you make to yourself.
If something doesn't work, look for another way to achieve the same result.
Positive feedback keeps us going.
Your product is not for everybody. That doesn't mean it's a bad product. It just means it's not for them.
It's surprising what can happen when you say "yes" to things.
Take a moment, pause, and celebrate your progress.
Resources Mentioned
Check out Jen Sincero's full line of books on Amazon. In particular, Kate is referencing the one on How to Stop Doubting Your Greatness and Start Living an Awesome Life.
Contact Links
Gift Biz Resources
Learn to make money doing what you love. You're a gifter, baker, crafter, or maker … and you're stuck in a day job. You'd love to turn your one-of-a-kind jewelry or heavenly chocolate into a profitable business, but you have no idea where to start. How the heck do people turn their creative business dreams into reality?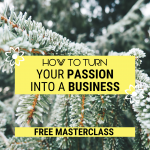 Learn the ONE thing that will take you from 'hobbyist' to 'pro' in no time
Discover the 5 crucial steps to give your business a solid foundation and set you up for massive growth
Find out how to be 2 steps ahead in your business so that your customer starts chasing you!
It's time to get out of your rut and dive into your future headfirst! Stop wondering about your next steps — instead, pour yourself something delicious, sit down, and let me show you how to turn your hobby into a money-making business.
If you found value in this podcast, make sure to subscribe and leave a review in Apple Podcasts or Google Podcasts. That helps us spread the word to more makers just like you.
Thanks! Sue