041 – No More Excuses: Start Your Baking Biz with Cydni Mitchell of Sweet Fest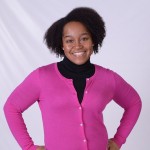 Cydni Mitchell is the founder of Sweet Fest, a global online directory designed to connect Sweet Lovers with local Sweet Makers.
By trade, Cydni is an accountant & financial analyst with a Masters from the Kenan-Flagler Business School at the University of North Carolina at Chapel Hill. She has worked closely with many of the Sweet Makers on her site to help them develop and successfully implement their own social media marketing strategies, re-branding initiatives, and business plan remodeling.
There are tons of resources available to help sweet entrepreneurs develop their baking talents, but the goal of Sweet Fest is to help Sweet Makers with running the business side of their sweet businesses.
Cydni's philosophy is that there "must be a balance between a delicious product & a solid business/marketing strategy. No sweet business will be successful without having both in place." Cydni & Sweet Fest work to provide sweet business owners with the keys to obtaining that balance to ultimately be successful in business.
Motivational Quote

Business Inspiration
It all started with Sweet Meg's [4:08]
The Sweet Fest Directory idea was formed [6:52]
A Candle Flickering Moment
How do you create something big while working full time and with a small investment [15:10] and [21:46]
Business Building Insight
What you need to get started [8:27] and [13:35]
Website development and evolution [10:59]
WordPress.com versus WordPress.org [12:38]
Keep your eyes and ears open to a bigger need of your audience [18:18]
Sales and Visibility Tips
How they grew to 4,500 followers on Instagram [9:16]
The value of using Periscope for your business [19:48]
Success Trait
Cydni is personable and naturally curious about people and their stories. She got this from her dad who is a lifelong salesman. [23:08]
Productivity/Lifestyle Tool
Apple TV – hear how this helps her balance and keep energized for her business. [24:27]
Valuable Book
This Too Shall Pass by Margaret Anne Huffman
Course for Sweet Business Success
How to Develop a Professional Brand
Contact Links
If you found value in this podcast, make sure to subscribe and leave a review in Apple Podcasts or Google Podcasts. That helps us spread the word to more makers just like you. Thanks! Sue