How to have a perfect picnic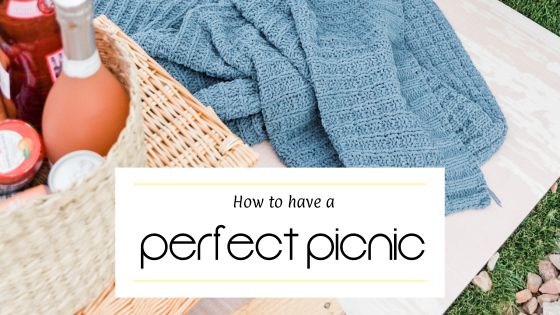 It's picnic season! What a great way to enjoy the outdoors and spend quality time with loved ones. They bring you together with friends and family to share a meal, appreciate nature, and create lasting memories. But an amazing picnic experience doesn't just happen, so let's talk about how to have a perfect picnic!
From choosing the right location to packing all of the essential items, there is much that goes into creating a successful experience. But it doesn't have to be daunting.
In this blog post, we'll explore tips for planning a flawless picnic outing. I've got a recipe to share and I'll talk about how your handmade products might be perfect for picnicking (even if you never thought of that!) so you can help your customers enjoy an outdoor adventure that's both beautiful and practical.
Planning The Perfect Picnic
What could be better than enjoying delicious food while taking in the beauty of your surroundings?
When planning the perfect picnic outing, keep these key considerations in mind:
Location selection: Choose a picturesque spot with plenty of shade for a successful and comfortable picnic. If you're bringing the kiddos, make sure there's room for them to run around and play safely within eyesight.
Weather considerations: Opt for ideal conditions, such as sunny skies and moderate temperatures. If the weather forecast changes, schedule for another day. It's the worst trying to force or ignore cold, windy or rainy weather.
Timing: Aim to arrive at your destination in the late morning or early afternoon hours for maximum relaxation.
These are the very first things to think about because they'll determine the success of your picnic. It doesn't matter how great the food is if it's too hot to enjoy or if the location is crowded and uncomfortable.
Once you've got these non-negotiables nailed down, you can move on to the fun part.
Essential Tips For A Flawless Picnic Experience
Once you've selected an ideal location and have an optimal time of day in mind, it's time to start packing. An essential part of planning the perfect picnic is making sure you have all the necessary items for a well-prepared outing.
Packing smart: Here are all the must-have items for successful picnicking:
Picnic basket or bag: The perfect place to store and transport all of your supplies. Choose a practical yet aesthetically pleasing option that fits the size of your group.
Blanket or mat: A comfortable seating arrangement for maximum relaxation during your picnic.
Activities: Fun, simple activities like hula hooping, throwing a frisbee, a water balloon battle, or a 3-legged race can make you all feel like kids again. Don't forget relaxing meditative activities too. A book or coloring activity fits into the picnic scene too.
Utensils and tableware: Enhance your dining experience with unique accents.
Napkins and wipes: Ensure cleanliness with eco-friendly, reusable solutions.
Refreshing beverages: Enhance your experience with flavored lemonades or infused waters. Or opt for herbal teas and other summery drinks.
Food and snacks: Create delicious delights that showcase the colorful bounty of nature. Consider simple yet flavorful recipes such as homemade pita pizzas or veggie wraps (and don't forget to consider how well the food will keep unrefrigerated. Choose foods that are hearty enough to withstand the weather).
To get you started on the right foot, consider this gorgeous and flavor-packed recipe from Loveandlemons.com.
Avocado Summer Rolls With Basil Coconut Dipping Sauce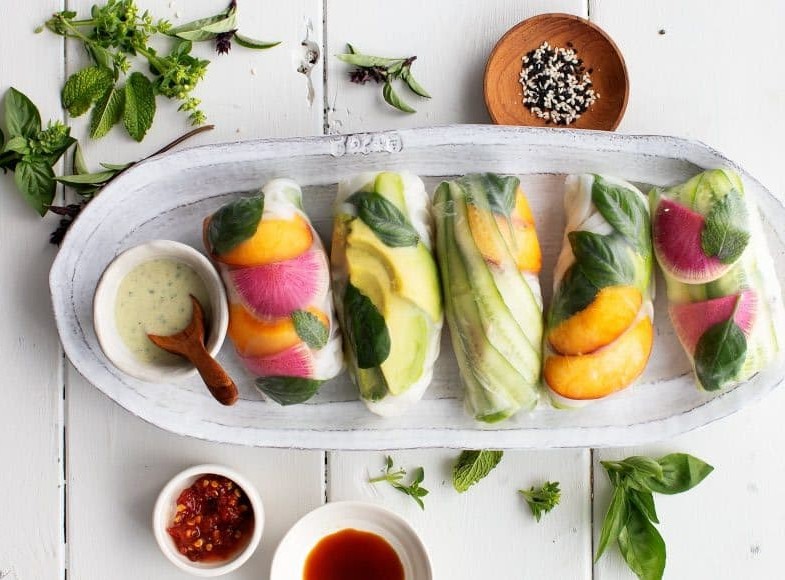 Basil Coconut Sauce
½ cup full-fat coconut milk
¼ cup basil
1 tablespoon cashew butter
1 tablespoon lime juice
1/4 jalapeño, optional
½ clove garlic
½ teaspoon fresh ginger
¼ teaspoon sea salt
For the summer rolls:
6 (28cm) spring roll rice wrappers*
4 ounces cooked rice noodles
4 ounces extra-firm tofu, sliced into strips**
1 ripe avocado, sliced
2 ripe peaches or 1 ripe mango, sliced
½ watermelon radish, very thinly sliced, optional
Fresh herbs: basil, Thai basil and/or mint
Pinches of sesame seeds
Tamari and sriracha, optional for serving
Make the basil coconut sauce: In a food processor, combine the coconut milk, basil, cashew butter, lime juice, chiles, garlic, ginger, and salt. Pulse until well combined. Season to taste.
Assemble the summer rolls: Fill a shallow glass baking dish with 1-inch of warm water. Submerge one rice paper in the warm water for 7 seconds and then lay the softened wrapper on a clean, damp kitchen towel. Place desired fillings into the center of the wrapper. Fold the bottom of the wrapper over the filling and gently tuck the filling under the wrapper. Fold the sides over the filling. Then continue rolling and tucking the rice paper to form a summer roll. Repeat with the remaining rice papers.
Serve with the Basil Coconut Sauce for dipping. Serve with tamari and sriracha on the side, if desired.
How Can You Connect Your Handmade Products?
Picnics are a great opportunity to showcase the beauty of handmade products. From handwoven baskets and bags and artisanal utensils and tableware to homemade jams and cookies, there are so many ways handmade goods can make an outdoor experience unique and interesting.
Here are just a few examples of how to suggest handmade products for seemingly unrelated activities like a picnic:
Handwoven baskets and bags: Combining functionality and aesthetics
Artisanal or customized utensils, tableware and drinkware: Enhancing the dining experience
Eco-friendly and reusable napkins and tablecloths: Promoting sustainability with style
Customized blankets and mats: Infusing personal touch into the setup
Homemade and customized food: Cookies, cakes, drink mixes, or jams and jellies are all perfect ways to make a picnic special
Here are a couple of podcasts highlighting artisans with picnic-friendly products you may want to consider or use as an example as you grow your own business:
How To Have A Perfect Picnic
With careful planning, you can plan a picnic outing that is both beautiful and practical. From choosing the right location to packing all of the essential items – picnics are an opportunity for creativity! So plan ahead and make sure you have everything you need for a successful outdoor experience.
And remember, your handmade products have many places in life. Suggesting uses for your products during this delightful outdoor experience is an excellent example of how you can inspire your customers and open up new opportunities for business growth.
Brainstorm other scenarios, too, and train your brain to think outside the box to see where your handmade products have a place in all sorts of summer adventures. You never know what kind of creative ideas you might come up with.
Enjoy the summer!