Areas to Let Your Creativity Shine in Your Biz – Beyond Your Product That Is!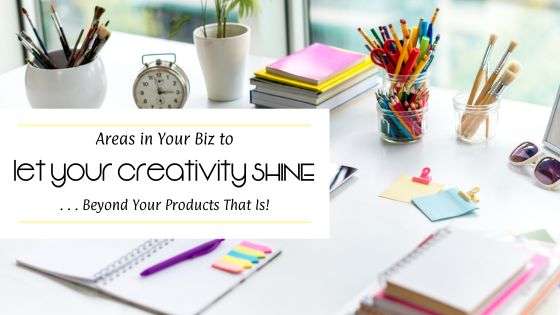 Look at you! As a maker, you're already a creative spirit. But do you know all the other ways you can add your special spark to your business? Over and above your one-of-a-kind products?
The truth is, there's more to staying competitive and profitable in business than just making a product. No matter how amazing it is.  Thankfully, your creative skills come in handy in lots of ways.
Let's go over four ways you can use your natural talents to give your business a creative edge.
Creating A Brand Identity
The goal is that your customers know it's your business immediately when they see anything having to do with your brand. A strong, recognizable brand identity will make you to stand out from the competition and give your customers a sense of familiarity and therefore, trust. Designing brand assets like a logo and choosing just the right fonts and colors to represent you and your business is a perfect way to utilize your creative skills.
Not sure where to start here? Or if you're thinking you may need a brand refresh that includes more of your personality, this resource will guide you through a brand redesign in one afternoon. One that totally speaks you … and it's fun to do too!
Product Photography
I know you know that how you showcase your products to potential customers is incredibly important. Product photography draws people in and makes them feel like they're seeing the product in person. When you do lifestyle shots, it's like they already own and are experiencing your products. Professional quality photos will go a long way toward achieving these results. The good news is they don't have to cost a mint! With just a little training plus your natural creativity, you can take them yourself.
Building A Website
Your website is often the first place potential customers will check out when they're learning about you. I call this your online company headquarters. Having a website with a modern and professional design gives the right impression and will bring them down the path to becoming a customer. So this is another perfect place to add your special touch.
Engaging Social Media Posts
Social media has become an incredibly powerful tool for businesses of all sizes. It's a great way to stay connected with your customers, build relationships with them and share content that they'll find interesting. When you put creative thought into the posts you create and make sure they're engaging and relevant to your business, you can build a loyal following who will be engaged with what you have to say.
As you can see, there are many ways to flex your creative side in your business. These ideas are just the tip of the iceberg. So, as your business grows, be sure to keep your creativity cap on to discover all the ways you can add your own unique touch.  From quirky product designs to creative business assets, these are the things that customers gravitate to and make your business unique.
Make your business shine brighter, don't be afraid to tap into that creative side of yours and see where it takes you! You may surprise yourself.